Sir Paul McCartney has joined the line-up for a charity single to raise money for those affected by Britain's worst sporting disaster, and may just keep the X Factor single off the chart's top spot for Christmas.
Robbie Williams, Melanie Chisholm and Beverley Knight are among the other stars featured on a cover version of The Hollies' 1969 hit 'He Ain't Heavy, He's My Brother'.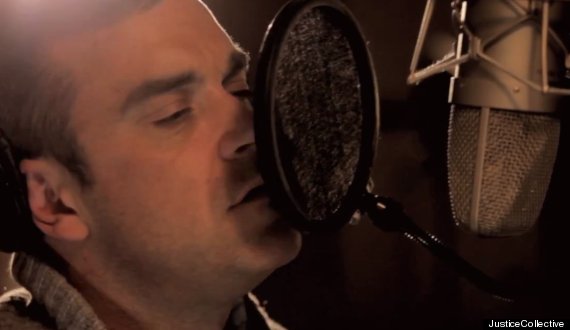 Robbie Williams plays his part in raising money for the families of the victims of Hillsborough
Proceeds from the single, which is released next month, will go towards those affected by the 1989 Hillsborough Disaster, when 96 soccer fans were killed in a horrific crush at a sports ground in Sheffield, England.
Comedian John Bishop, a staunch Liverpool fan, today tweeted a picture from the recording studios, showing himself together with Liverpool footballing legends Alan Hansen, Kenny Dalglish, Liverpool MP Steve Rotherham, alongside TV chef Heston Blumenthal and football Everton player Peter Reid.
He wrote: "Recording single He Ain't Heavy the Hollies classic for the Hillsbourgh Justice Appeal. There are proper singers too!"
John Bishop happy to be with his footballing heroes in a good cause
The single's release comes after a report found that police officers' statements were altered following the tragedy and up to 41 lives could potentially have been saved if the response of the emergency services had been swifter.
Robbie Williams' former writing partner Guy Chambers, born and bred in Liverpool, is producing the single.
He told The Mirror: "I am deeply honoured to be asked to produce this record for the 96.
"If we can help to raise money to support the families' legal battle so that they finally get their time in court then our job will be done.
"I spent my teenage years in Liverpool and feel a deep affection for both its musical heritage and the unique solidarity of its people."
The single is released on 17 December. You can preorder by texting the world JUSTICE to 80010. WATCH a preview below...