'Downton Abbey' star Dan Stevens will reportedly leave the hit period drama during the fourth series.
A production source told The Sunday Express the British actor, who plays Lady Mary's husband Matthew Crawley, "will probably do the first episode of the fourth series, but that will be it".
However, ITV would not confirm or deny Stevens' departure to the newspaper.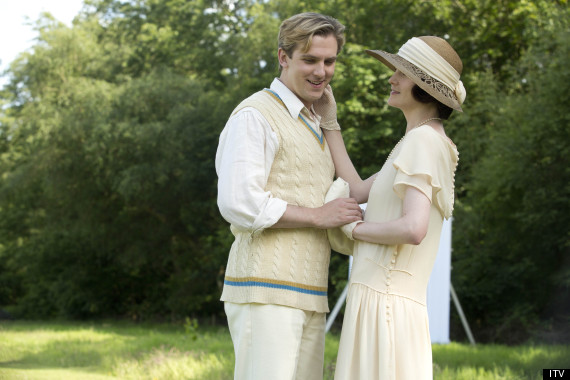 Dan Stevens as Matthew Crawley with Lady Mary
News of a fourth series was announced on Friday, with producer Gareth Neame promising the well-loved characters both above and below stairs will return along with the arrival of some new faces.
"Viewers can look forward to more drama, comedy, love, hatred, jealousy, rivalry, ambition, despair and romance," he said.
Filming of the eight new episodes for autumn 2013 plus an extended special episode for Christmas 2013 begins at Highclere Castle and Ealing Studios in February next year.
Stevens is currently appearing on Broadway in 'The Heiress' alongside Jessica Chastain and recently said he might stick around in the Big Apple. Dan Stevens with Jessica Chastain on Broadway
"New York for me is going to be one big adventure," he explained. "I will be taking the whole family out and we will be there for six months. I don't know if I will be returning to 'Downton.'"
Rumours of cast departures surrounding the fourth series have been rife for months. In March, TVLine reported Stevens didn't sign up for series four and five along with Siobhan Finneran (O'Brien) and Jessica Brown Findlay (Lady Sybil). Brown Findlay has now left the show.
Meanwhile, it is also feared series five may be the last for 'Downton.' Producer Gareth Neame told The Hollywood Reporter he doesn't see the show lasting much longer than five seasons.
"We have to balance between continuing to make it for audiences around the world that adore it and making sure that we don't take it too far … which is not now and not next year, but likely five years or six years, not 10 years," Neame said.
The third series of 'Downton Abbey' recently concluded with more than 10 million viewers still tuning in.
This year's Christmas special will be shown at 9pm on Christmas Day and producers have warned viewers to have their "tissues ready" for the show's festive tearjerker.
The two-hour episode sees the family head to a Scottish estate - filmed at Inveraray Castle - to visit cousins, against a backdrop of deer stalking and shooting in the Highlands.
But many of their staff have remained at 'Downton', and further dramas unfold in the family's absence.