Jack Wilshere has been urged to sign a new contract with Arsenal by manager Arsène Wenger.
The 20-year-old has two-and-a-half-years remaining on his contract and has made six appearances this season after 15-and-a-half-months out injured.
Wilshere has previously pledged his lifelong commitment to the club during his stint on Twitter, but Wenger is eager for the England international to ink his loyalty on paper.
"He [Wilshere] has always been very committed to this club and I hope he will show that," Wenger said.
"There is only one way to show that and it is to commit your long-term future to the club."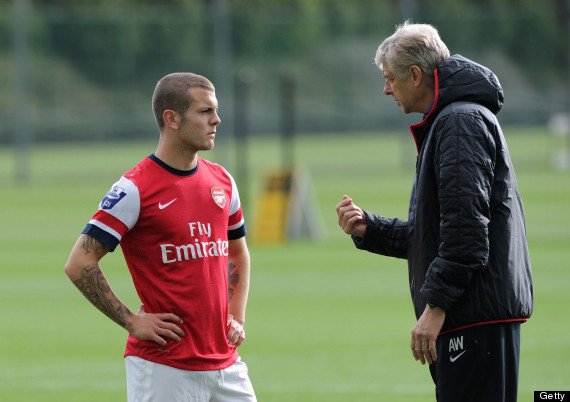 Wenger gave Wilshere his debut in 2008
Theo Walcott is out of contract at the Emirates Stadium at the end of the season and Arsenal will be wary of allowing Wilshere's contract to run into its last two years.
Samir Nasri and Robin van Persie both spent their final campaigns with the Gunners in the penultimate year of their contracts as Arsenal eventually had to sell the duo, otherwise they would have risked losing them on free transfers.
Wilshere is believed to be earning £40,000 a week and a new contract could be worth double that. An Arsenal fan and graduate from the club's academy, he is also viewed as a long-term captain at the club. City, who have made a habit of raiding Arsenal's squad in the last four years, would not think twice about adding a '1' at the start of Wilshere's current salary.
However the one obvious quandary for Wenger is success. The Gunners are without a trophy since Patrick Vieiera's winning spotkick secured them the 2005 FA Cup and Wilshere has already experienced the deflation of a final defeat when Arsenal lost the 2011 League Cup to Birmingham City at Wembley. Wilshere celebrates his first Champions League goal against Montpellier
Wilshere was given his debut for Wenger as a 16-year-old away at Blackburn in September 2008 and established himself as a first-teamer at the club in the 2010-11 campaign.
He has made 69 appearances for Arsenal, scoring four goals in the process with his latest strike coming against Montpellier in the Champions League last week.