Broadway classic Kiss Me Kate has shimmied across the pond to London in a razzle dazzle revival at the Old Vic.
Fresh from his directorial duties on the critically acclaimed A Chorus of Disapproval, Trevor Nunn gives theatre-goers a smooth, sassy and sexy version of Cole Porter's All American show that defined the 1940s musical age.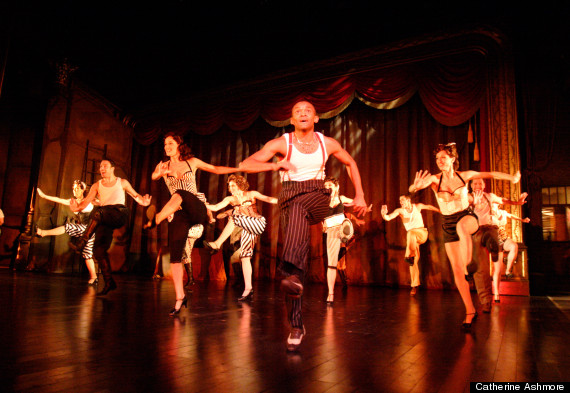 Jason Pennycooke (Paul) and company
The 'show within a show' plots sees Hannah Waddington as the titular Kate - a glamorous movie star who has agreed to perform in a musical version of The Taming of the Shrew, directed by and co-starring Kate's ex-husband Fred (Alex Bourne).
All appears amicable between the showbiz pair, until old feelings are rekindled, then swiftly extinguished at the most inopportune moment - on stage at the opening night.
Loving to hate each other, Bourne and Waddington show tight chemistry as screaming, slapping and spanking ensues. As the woman who "bit King Kong and gave him rabies", Kate's infamous temper provides screaming tantrums and fractious musical numbers, including I Hate Men.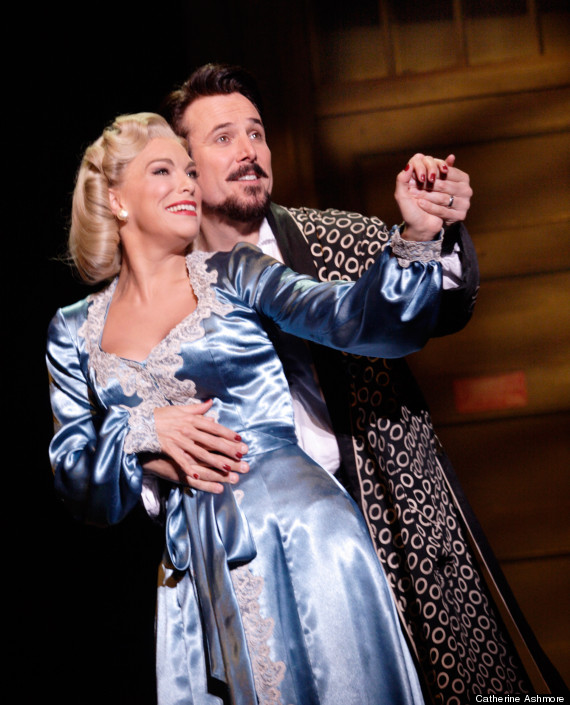 Hannah Waddingham (Lille Vanessi) and Alex Bourne (Fred Graham)
After a lengthy warming up with a slightly stiff opening number, it doesn't take long for the whole cast to dazzle in simple and eye-catching black and white Shakespearian costumes.
Waddington brings an energy and presence reminiscent of the Hollywood legend Katherine Hepburn, personifying 1940s style and glamour. Add to the musical mix the actress' singing voice - effortlessly flawless - and you have a knockout performance.
Bourne's intuitive comic timing keeps the plot tapping along at a finger-clicking pace, as he quite literally tames the shrew. The leading man's Clark Gable demeanour complements Waddington's Hepburn spirit - channeling two Hollywood icons on the Old Vic's legendary stage.
The Kiss Me Kate promotion posters feature a familiar face from our TV screens: former Got To Dance judge and tap star Adam Garcia. Only in the second Act does Garcia get to stretch his tap legs, playing ladies' man Bill in a tussle with aspiring actress Lois (Holly Dale Spencer). Elsewhere, the tap man's appearances feel like an inserted cameo role.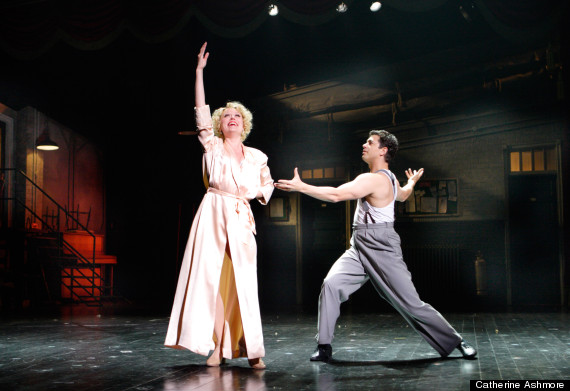 Adam Garcia (Bill) and Holly Dale Spencer (Lois Lane)
Clive Rowe and David Burt are a hit with the audience, playing two of the most unmenacing gangster goons to ever grace a stage although the pair's guttural grunts and implied violence have Kate and Fred rushing around the theatre in fear. The double act's moment in the spotlight with musical number Brush Up Your Shakespeare get the biggest laughs and cheers from the crowd.
Trevor Nunn's latest outing captures all the dazzle of Porter's multi-award winning musical - a night out that will transport you to the glittering days of 40s Broadway buzz.
Kiss Me Mate is now on and running at The Old Vic, London until 2 March 2013.
Watch the trailer of Kiss Me Kate:
Take a look at all of HuffPost UK's theatre reviews:
HuffPost UK Theatre Reviews