It's a Rolling Stones fan's dream come true - the chance to travel with the band, hear their stories, watch them rehearse... and it happened to celebrated rock photographer Denis O'Regan after he was invited to be the official snapper of their tour in 1982.
Denis's memories of his time up close with the rock world's biggest and longest lasting stars are as close as most of us are going to get, so here goes... what was the most decadent thing he got to see?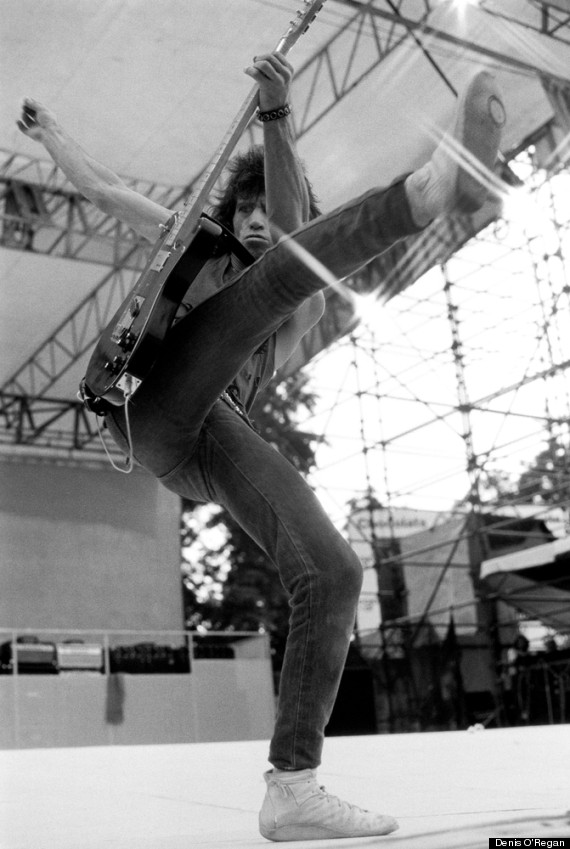 Mick Jagger is the world's ultimate showman, but what goes on backstage?
He chuckles. "The biggest surprise was the lack of decadence. This was 1982, they were slightly on the way down from all of that. The plane was laid out like an apartment, and all the rock gods you'd expect to see doing something mad were more likely to be eating sushi, watching a film, or reading. There was lots of reading."
According to Denis, there were loads of people around all the time - at least 25 staff including accountants, security guards, chefs - and they all operated inside a hermetically sealed bubble of fame: "We were on a private plane, given keys to our hotel rooms on the plane, nobody walks through the lobby. It's a surreal world, which I was able to wander in and out of. It means the musicians are kept away from their fans, so you really only see the effects of such worship when they get on stage. Nobody at that level leads a normal life."
After 50 years together, who's the real boss? "There are definitely two camps," confirms Denis. "Rolling Stones New York is Keith, while Mick's fiefdom is London. They're the bosses jointly because they wield different kinds of power, different ways of operating emotionally. And Charlie is the backbone on and off stage, he's the person they go to whenever there's a dispute, but there hardly ever is. Everyone's very sweet."
Denis has been putting his photos together for a special Friends Reunited gallery - details below. As he says, "It deals in memories. For every photo I've taken with 60,000 watching the Rolling Stones on stage, that's a little piece of history for each of those people. It's crowd-sourced nostalgia.
And what's his view of the Stones these days, as they embark on yet another tour and chalk up their 50th year on the road together?
"They're just slightly older people," says Denis. "They seem to be doing rather well."
Friends Reunited has worked with renowned photographer Denis O'Regan to curate an online gallery of exclusive images of The Rolling Stones. Click here to see all the photos and to share your own memories.