More than 40 drawings of male nude figures will go on show at prestigious London museum, The Wallace Collection, next year.
The drawings date from the 18th century and are the work of a raft of esteemed artists, including Rigaud, Boucher and Jean-Baptiste Isabey. They are to be loaned by the French equivalent of the Royal Academy of Art, the Ėcole nationale supérieure des Beaux-Arts in Paris.
The works show muscly male figures in a series of poses, including some double-portraits where the subjects are fighting - a far cry from the gently reclining voluptuous female figures portrayed by the likes of Francisco de Goya and Francoise Boucher.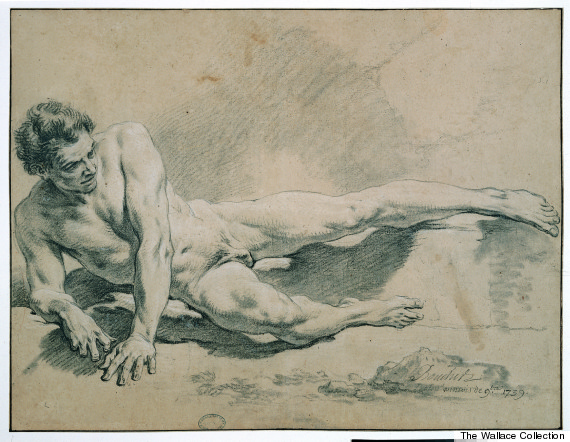 Francois Boucher, Study of a man lying down, an elbow leaning on the ground,1739
While the Tate has several studies of male nudes, mainly by Turner, from the same period, this exhibition is said to be "unprecedented" in Britain.
The Wallace Collection, which prides itself on its world-class pieces of art and furniture from the era, says that these drawings will "offer the visitor a new dimension and complete the jigsaw".
The show doesn't open until October 2013, so you've a little while to wait yet. But in the meantime, here's a sneak preview of some of the drawings on show.
Let us know your thoughts in the comments below.