How will former 'TOWIE' star Amy Childs fare as we put her through her paces to assess her celeb credentials? Time to find out as we ask, Amy Chiilds - How Showbiz Are You?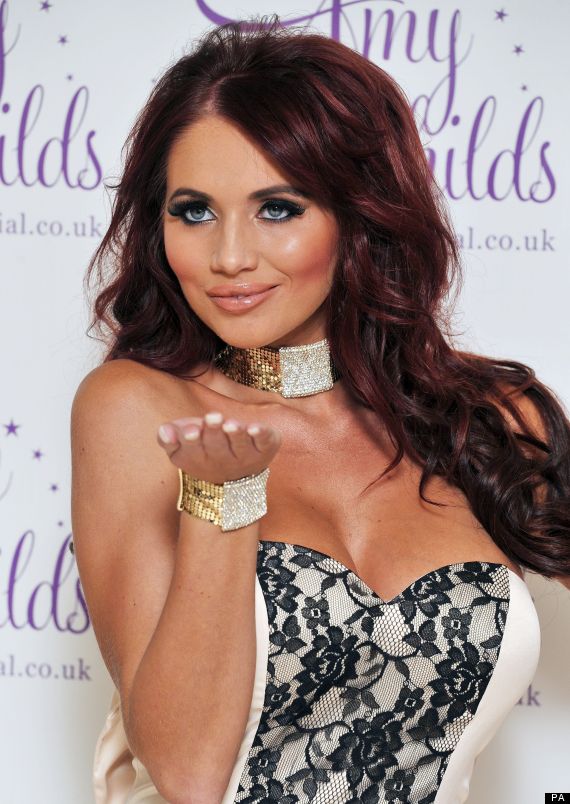 1. Who is the most famous name in your mobile?
Oh my god I don't have anyone at the minute because I've lost all my numbers! I didn't really have anyone famous' number. I've got people like Alexandra Burke, obviously Peter Andre. Oh, I've got Louis Spence in my phonebook and Jedward.
4/5. Not bad for someone who said they didn't have anybody...
2. Most bizarre thing you've ever read about yourself?
That I'm going out with Olly Murs. I've never met him in my whole entire life. I sort of met him a little while ago but I don't know if I fancied him. So I was like 'whaaat?' It was really funny. And also what I read recently is that I'm losing all of my weight because Dave (her boyfriend) is so good looking I'm trying to compete with him. I was like 'whatever' and that was that. They're just jel.
2/5. And what's wrong with Mr Murs?!
3. How much is too much for a haircut?
Look it's very important to have the perfect hair, especially for people in the public eye because you get photographed a lot. I wouldn't pay more than £500. With extensions I would pay over £1000 probably. Anymore is taking the p*ss.
5/5.
4. What is the weirdest place you've ever been recognised?
Thorpe Park the other night in pitch black. I went to Fright Night the other day and I had a big hat on walking around and everyone was recognising me. No joke, it was pitch black. That was really weird. They probably heard the accent walking around. I should have just put on a posh accent.
2/5. We'd like to hear you try.
5. What's the weirdest thing you've been sent by fan?
I got sent a sock the other day. It said 'Amy I'm your biggest fan', that was a bit weird. I did have a guy who was sending me pictures of his body and all that but I sent him to the court, so I can't really talk about him.
5/5. Crazed fan - check.
MORE: HOW SHOWBIZ ARE YOU?
6. What's the best party you've ever been to?
My manager Claire's birthday party when I first joined the management because I was so new to it. Amanda Holden was there and it's a party I'll never forget.
2/5.
7. Ever used your fame to get what you want?
Never. I would never do that, that's not normal! Never would I try and blag my way into a place, that is just not me. It's not cool.
0/5. Hmmmm....
8. How much cash would it take to get you to pose in the buff?
I would only pose naked in my middle thirties and I'd definitely do it for £1m. When you're 35 and your career is coming to a bit of an end, you could make a bit of money. I would do a modelling shoot for charity, but I wouldn't go nude for charity. I do a lot of charity work.
5/5. But she doesn't like to talk about it...
9. Best freebie you ever received?
Do you know what? I get loads of freebies sent to me but my favourite? I would probably say all the hair stuff as I would spend a lot of money on my hair otherwise. Waxes, gels, nail polishes, I get make up sent to me. I would spend a lot of money on my beauty.
4/5. Vain? Amy? Shut up!
10. Ever been chatted up by another celeb?
I've had a bit of banter with celebrities but I can honestly say I've never been chatted up by another celebrity. I speak to anybody. But I'm not really like that, that's why I was single for so long. If Simon Cowell was in the room, I'd walk up to him and go, 'Hi Simon!', not because I want to chat him up, but I'm a very talkative person. I met him recently and he came up to me and was like, 'Hi Amy'. I remember I was so nervous but I got on really well with him.
3/5. CLANG! Was that a name we heard hitting the floor there?
Result: 31/50
Once upon a time she may just have been a beautician working from her dad's garage, but we are now 'well jel' of Amy Childs' new showbiz lifestyle. From hobnobbing with Simon Cowell to splashing out half a tonne for a haircut, the former 'TOWIE' star has cemented her place in the HSAY? hall of fame.
Amy Childs' new lash collection offers a selection of eight high-quality affordable lash styles all different to suit every girl and every occasion. With names such as Heartbreaker, Tease, Temptress and Flirt, Amy has used her own beauty expertise to carefully hand-pick lash styles for all those who want perfect lashes. To get yours for the party season, visit http://www.amychildsofficial.co.uk