Rihanna has announced the title of her next single by posing topless with a dollar bill over her mouth.
The track 'Pour It Up' will be the second single from her seventh studio album 'Unapologetic', which is currently number one in the US Billboard album charts.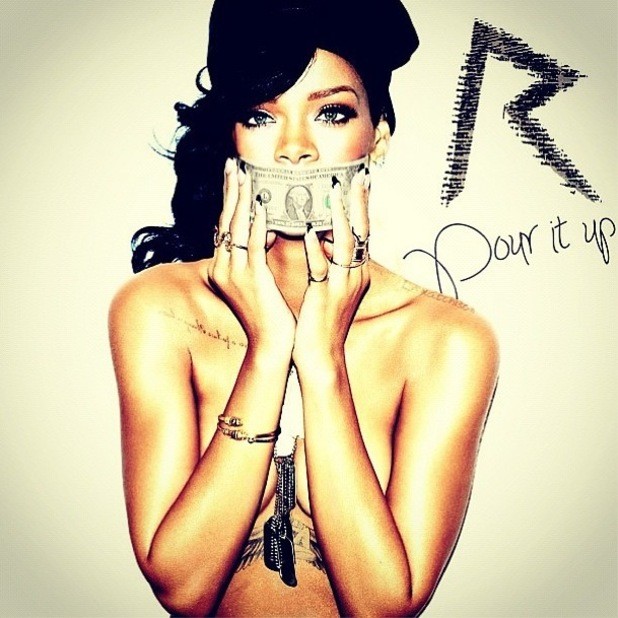 The controversial Grammy Award-winning singer posted the artwork for 'Pour It Up' on her Instagram account and shocked fans who thought her Chris Brown collaboration 'Nobody's Business' could be the next cut from her album.
LISTEN: Rihanna's next single...
PROFILE: How Long Can The 'Unapologetic' Pop Star Stay Afloat?
Rihanna recently came under fire after journalists complained that they were not given enough access to her after being flown around on her 777 Tour.
The Bajan star responded to criticism by telling Radio 1: "They all want you to host a party every time you get on the plane after a show but you really only have that time to sleep until you get to the next country.... Sometimes it was a two-hour ride to the next country and that was all the sleep you would get."
"I knew I had seven countries and seven shows and I had to save my voice," she told the station. "I didn't go crazy. I didn't party too hard."
The 777 tour took the singer and her guests to seven cities in seven days. Each night, Rihanna would perform an almost entirely consistent set at a somewhat intimate show.
COMPETITION: Driving home for Christmas? Win the latest smartphone from Google, the Nexus 4, fitted with CoPilot Live sat-nav – a prize worth more than £250!