James Balog used to be something of a sceptic about global warming... until he saw for himself.
Now the celebrated photographer has made it his mission to record, beyond any doubt, the effects of warming on our planet, particularly the beautiful, bleak Arctic region we seldom get to see.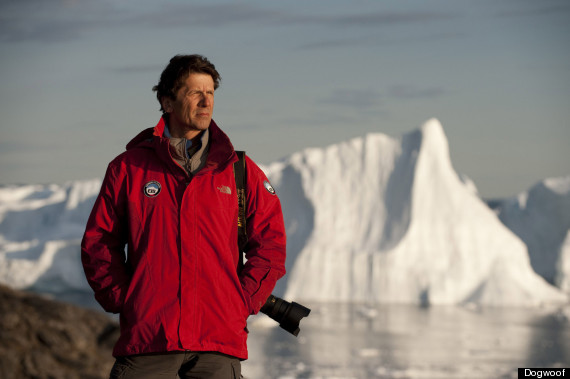 James Balog doesn't want to say there was nothing he didn't do...
To set up the Extreme Ice Survey, Balog and his team put 34 cameras across 16 glaciers, and left them in place to record, beyond all personal opinion and doubt, the changing landscape. This involved personal treks across glaciers, frozen ravines but, according to Balog, this wasn't the hard stuff...
"The financial stress is actually the biggest challenge. It's always been unrelenting, too close to the wolf," is how Balog explains it in rain-swept London. "The physical challenges - the weather, the logistics, the glaciers - would be challenging, but that's my happy zone.
"Obviously there were electronic challenges with the cameras and the helicopters too (the camera catches Balog weeping in frustration when one of his cameras is found to be faulty, after all the work involved in installing it on a faraway glacier). I've already had a number of near death experiences on other assignments, lots of friends who have died in mountains on climbing trips, so nobody guarantees you long survival."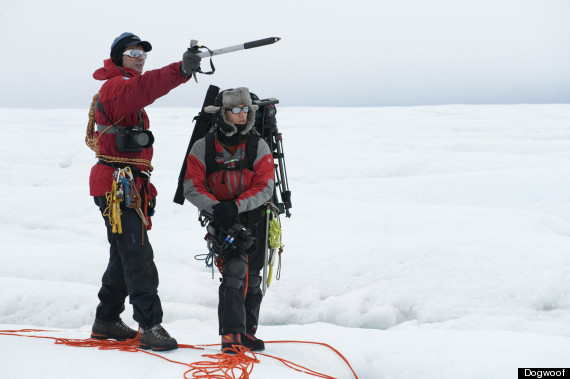 James Balog and his team crossed glaciers to put the cameras in the right spots
The work is undoubtedly gruelling, but Balog has been vindicated by the physical proof in his hands, and the effect his film and personal presentations have had on sometimes sceptical audiences...
"I've had people come up to me saying, 'thankyou for letting me understanding what is really happening,' and that makes it all worthwhile," he says cheerfully.
"Acutely and strongly, I feel that there is an important piece of history passing, and I have the opportunity to make a record of this process.
"There is a glacier in Iceland, Solheimar, which has retreated a great deal and every time I go back there and see what's not there any more, it does something to the heart. It makes you realise it's possible for a gigantic natural element to just disappear.
"When my daughters Simone and Emely look at me 25/ 30 years from now, they'll ask, 'What were you doing, when global warming was happening and you guys knew what was coming down the road?'
"I want to be able to say, 'Guys, I was doing everything I knew how to do.'"
Chasing Ice is in selected UK cinemas from 14 December, with a special premiere screening, including a Q&A session with the film's director, at the Ritzy Picturehouse cinema on Monday 3 December. Click here for more information. Watch the trailer below...