Clint Eastwood... baseball... Justin Timberlake... and Amy Adams to boot. What more do you need for a quintessentially American feel-good film for a cold winter weekend?
To celebrate today's UK release of 'Trouble With the Curve', Eastwood's ode to baseball and not replacing old with new, HuffPostUK has an exclusive interview clip with the film's younger stars Justin Timberlake and Amy Adams - WATCH ABOVE.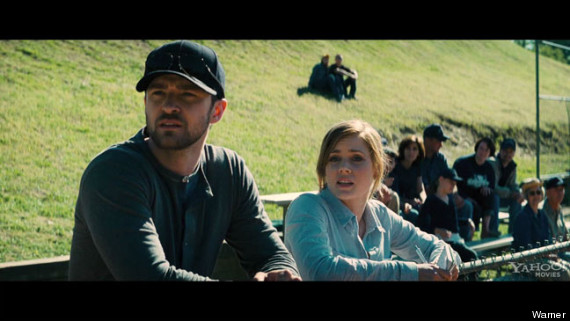 Justin Timberlake and Amy Adams are full of what they've learnt from a master on 'Trouble With The Curve'
Some Clint-Essential moments...
And, not forgetting the veteran at the backbone of the film, here's a celebration of some Clint-essential movie moments that have contributed to the myth of director, producer, actor and four-time Oscar winner Mr Eastwood. After six decades in the industry, the message is clear: Don't go talking to empty chairs, Sir, just keep the films coming instead...
The Dollars Trilogy (1964 – 1966)
Undoubtedly, Clint's rise to fame was playing a tough and morally ambiguous cowboy 'The Man With No Name' in Sergio Leone's trilogy of spaghetti westerns - 'A Fistful of Dollars' (1964), 'For a Few Dollars More' (1965), and 'The Good, the Bad and the Ugly' (1966). In 'A Fistful of Dollars', it was said that Sergio Leone wanted to cast either Henry Fonda or Charles Bronson. As he was on a tight budget and couldn't afford them, he decided to take a gamble and cast Clint. Well that gamble certainly paid off. Leone's trademark style of using little dialogue and extreme close-ups matched Eastwood's understated style and the film was a surprise box-office smash. Due to the success of this film, the next two received more funding and all three became box office successes making Eastwood a Hollywood star.
Dirty Harry (1971)
Eastwood then created his next enduring incarnation - Inspector Harry Callahan, (the daddy of all maverick cops) Dirty Harry. This role established Eastwood's reputation as an enduring cultural icon of raw masculinity. It also contributed one of the most memorable lines in cinema: "Do I feel lucky? Well, do ya punk?"
Every Which Way But Loose (1978)
After starring in a string of spaghetti westerns and 'Dirty Harry' roles, playing Philo Beddoe – a trucker and brawler roaming the American West accompanied by his pet orang-utan – in 'Every Which Way But Loose', was a role that was uncharacteristic for Clint to say the least. It was also reported that he was advised against making this adventure comedy. The film went on to become an enormous success and became, along with its 1980 sequel 'Any Which Way You Can', two of the highest grossing Eastwood films.
Unforgiven (1992)
This western starred, produced and was directed by Clint Eastwood, and also starred Gene Hackman, Morgan Freeman and Richard Harris. It won four Academy Awards® including Best Picture, Best Director, Best Actor in a Supporting Role (Hackman), and Best Film Editing. Additionally, the film was only the third western to win the Oscar for Best Picture following 'Cimarron' (1931) and 'Dances With Wolves' (1990).
Mystic River (2003)
Directed, co-produced and scored by Clint, it opened to widespread critical acclaim and was
nominated for 6 Academy Awards© - two of which were won by Sean Penn for Best Actor and Tim Robbins for Best Supporting Actor respectively. Obtaining both of these awards made Mystic River the first film to win both awards since Ben-Hur in 1959.
Million Dollar Baby (2004)
As one critic put it, "…Million Dollar Baby is a masterpiece, pure and simple". With Clint starring alongside Hilary Swank and Morgan Freeman, this film delivered the goods by winning four Academy Awards© including Best Picture, Best Director, Best Supporting Actor (Freeman), Best Performing Actress (Swank).
Gran Torino (2008)
Directed and produced by Clint, this film marked Eastwood's return to a lead acting role after
four years, and was a critical and commercial success making it his most successful film ever. It was also recognized by the American Film Institute as one of the Ten Best Films of 2008.
Trouble With The Curve is in cinemas nationwide from today, 30 November. Watch the trailer below...