If Rihanna is going to keep on insisting she is 'just friends' with Chris Brown, she blinking well needs to stop doing things like tweeting pictures like this of her draped all over her violent ex.
Honestly, as much as we love her, we're fast running out of patience with this whole debacle.
Rihanna appears to be kissing the heavily tattooed rapper's head as he hides from the camera in a picture she posted on her Twitter, writing that she 'didn't want to leave'.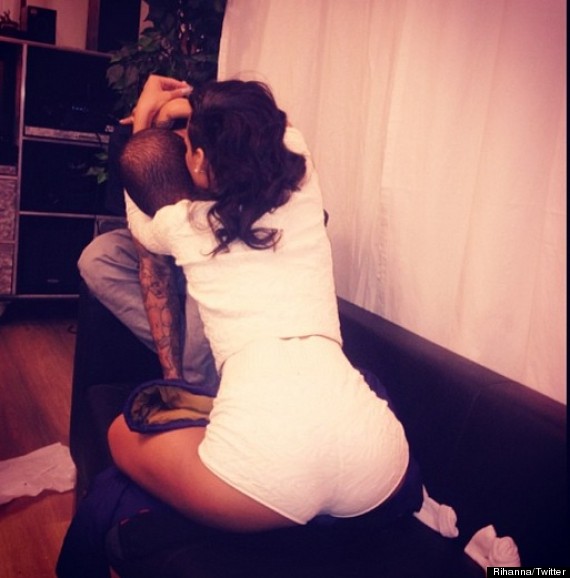 "fuckyopictures i dont wanna leave!!! Killed it tonight baby!!!," she tweeted.
She had been supporting him as he played Frankfurt in Germany as part of his Carpe Diem tour.
The pair have been inseparable of late, having been spotted together on a number of occasions since she finished her disastrous 777 Tour last Wednesday.
HUFFPOST UK CELEB ON FACEBOOK | FOLLOW US ON TWITTER
Rihanna jetted straight out to Germany from New York to support her rumoured lover after her tour, where she posted a topless snap of him lying in bed. She then made a trip over to the UK to perform on 'The X Factor', before returning to Germany and back in to Chris' arms.
Yesterday it was reported the pair had even splashed out on matching Rolex watches to celebrate RiRi's new album 'Unapologetic' reaching number one in the US.
'Just friends', you say? Hmmmm....
WIN A SONY XPERIA TABLET IN OUR CHRISTMAS COMP
VOTE IN THE 2012 HUFFPOST CELEB AWARDS