Paul Noble has been made the bookies favourite to win the Turner Prize tonight with his huge, intricate pencil drawings of an imaginary city whose residents resemble human excrement.
The artist, from London, has been creating detailed drawings of fictional city Nobson Newtown for the last 15 years in work that has been described as a parody of an ideal city.
Also shortlisted for the art award, which is handed out at Tate Britain gallery in central London, are Spartacus Chetwynd, Luke Fowler and Elizabeth Price.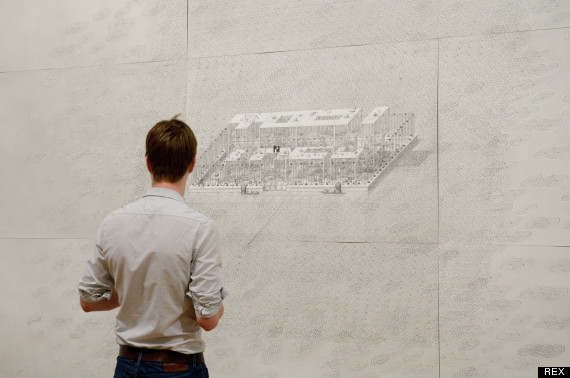 TREV2012 by Paul Noble is the bookies favourite to win tonight
SEE ALSO -
Performance artist Chetwynd, who "lives and works in a nudist colony in south London", changed her name from Lali on her 33rd birthday "to remind people they have a choice in life".
She has said: "Like my art, my name-change annoys people. The moment it stops annoying people, I will rename myself again."
Chetwynd puts on puppet performances with a group of friends and family using her own handmade costumes and sets.
The artist, whose mother is a set designer who won an Oscar for Howards End, always participates in her productions, wearing just a bikini for a performance called An Evening With Jabba The Hutt.
Her other work includes a week-long performance The Walk To Dover, in which she and her troupe dressed as Victorian street urchins.
Fowler, from Glasgow, is shortlisted for his long film exploring the life and work of Scottish psychiatrist RD Laing. 'All Divided Selves' blurs the line between video art and documentary to give a fragmented but absorbing insight into Laing, who challenged orthodoxies about mental illness during the 70s
Price, from London, is in the running for the contemporary art prize for a trilogy of video installations. She has largely been the critic's choice this year, with her work described by The Huffington Post as being "highly technically accomplished, but with a poetic touch."
The £40,000 Turner Prize sees £25,000 go to the winner and £5,000 each for the other shortlisted artists.
Established in 1984, the prize is awarded to British artists under 50 for an outstanding exhibition or other presentation of their work in the 12 months before 24 April of this year.
Tate Britain director Penelope Curtis, chair of the jury, said the shortlist "brought a kind of slowness of looking" and were "not a quick fix".
She said: "None of these works are something that you can get in a few minutes. You have to spend an hour or two to get it, whether it's film, drawing or performance."
Judges say there is a "humanity" running through all the artists' work.
They hailed Noble's art as "a compelling life project" of "incredible, monumental graphite drawings". The artist takes almost "an omnipresent view" of a "dysfunctional world" in which "people become turds and turds become people".
They describe Chetwynd, whose recent exhibition Odd Man Out 2011 took the form of a five-hour play, as a "very interesting character" who involves the audience in her work.
Fowler, best known for his film portraits of public figures, is said to have an "autobiographical and biographical thread to his work".
Price started to make films four years ago and has a musical background, co-founding indie-pop outfit Talulah Gosh. Judges praise her "powerful body of work over the last three years".
Price's work includes West Hinder, inspired by the sinking of a ship in 2002 with a cargo of luxury cars, and The Woolworths Choir which features degraded footage of girl groups.
Bookmakers William Hill make Noble the 11/8 favourite, followed by Price at 2/1, Chetwynd at 11/4 and Fowler at 5/1.
Other bookmakers also make Noble the favourite to win.