A man has been jailed after a bid to steal a rhino head worth up to £500,000 was foiled by museum staff and visitors.
Patrick Kiely, 29, of Eleanor Street, Bow, east London, admitted attempted theft at Norwich Crown Court this morning.
Prosecutor Peter Gair told the court he had been one of a gang of four who smashed a glass case as they attempted to steal the artefact from Castle Museum, Norwich, on 20 February.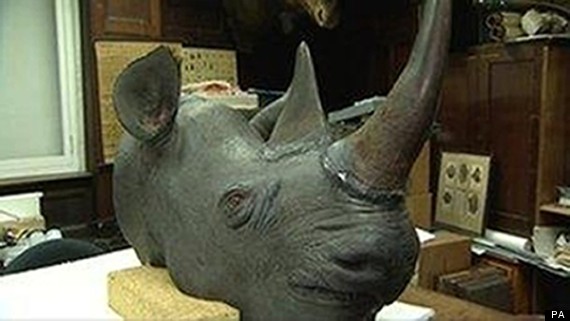 The rhino head at its home at Castle Museum, Norwich
They had deliberately targeted the head because of the high value of rhino horns.
He added: "As they attempted to escape with the head, staff and visitors stood firm and would not let them leave. They dropped the head, partially damaging it, and escaped."
A driver was waiting outside in a stolen car to help them make their getaway.
Kiely is already serving a six-year sentence for his part in a raid in April on the Fitzwilliam museum in Cambridge in which Chinese jade worth between £5 million and £15 million was taken.
Today, Judge Peter Jacobs ordered that he served an additional 18 months for the latest offence.
He said: "You were part of a gang who drove to Norwich to target the museum. It is estimated that the rhino head is late Victorian and worth between £300,000 and £500,000.
"So far, only you and one other have been caught. If you were to come forward with a name in the next 28 days, your sentenced could be reduced."
Rebecca Hill, mitigating, said that Kiely had been forced to take part in the raid and, because it failed, was again forced to take part in the Fitzwilliam burglary.
Nihad Mahmod, 19, of no fixed address, was last month jailed for two-and-a-half years for his involvement after admitting attempted theft.
The museum has since replaced the rhino horn with a replica.
On the black market, rhino horns can sell for about £50,000 per kilo.