In this age of austerity, what should our opinion be of a hotel boasting a £1 million chandelier, and charging up of £6,000 a night?
Unabashed curiosity and relief, that's what. 83,000 guests each year make their way to Claridges in the heart of London's West End, in search of comfort, splendour and their every whim being catered for. One guest confides happily, "It's like they're expecting me - it's not a blind date."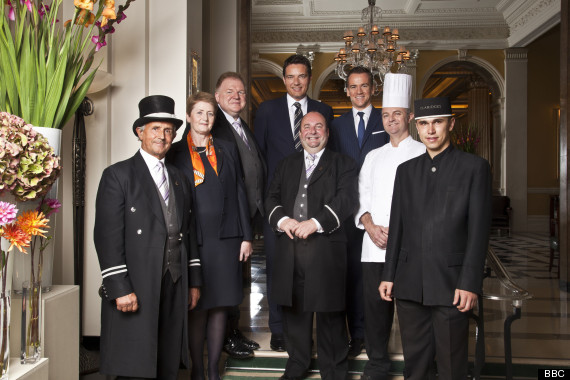 The staff of Claridges looks after 83,000 guests a year
The statistics revealed in this year-long peek behind the machinations of this 150-year old hotel are mind-boggling... 400 staff walking up and down two miles of corridor, turning over £58 million a year - installing Jacuzzis, handing over the entire third floor to a "foreign royal", even dog walking regular guest Sammy.
There are as many characters to be found in the staff ranks as among the guests. Telecoms manager Tim Lock - as dry as a bone with his wit - "notice I didn't say I didn't know", deputy housekeeper Ann Barnes, who could run the country or present The Weakest Link when she's not inspecting the lampshades, and presiding over all this Britishness, the perma-tanned German general manager Thomas Kochs. He's a perfect self-described "conductor of the orchestra", especially when he's deliberating over how to address a welcome card to an Irish rock star - "shall we say Dear Mr The Edge?"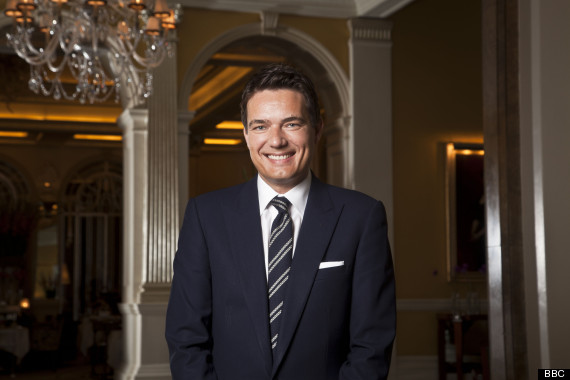 General manager Thomas Kochs has a favourite place in the hotel - "the lobby"
This 3-part series is a godsend for anybody who feeds on property-porn in Harrods' estate agents' windows, who can recite the Farrow and Ball paint chart, who reads Hello Magazine at the hairdresser, and who has had to do without this kind of home-furnishing decadence since 'Dynasty' and 'Falcon Crest' disappeared from our screens.
While we may quite rightly scoff at the idea that, in a time of deepening inequality and post-riot London, someone doesn't blink at coughing up a small house deposit to spend a night in the Piano Suite, there's something vaguely reassuring, too, that certain people are happy spending their money like it's never gone out of fashion. As one deep-pocketed guest observes of his puffed-up pillows, "There'll always be luxury."
Click here for more TV Reviews
'Inside Claridges' continues on BBC2. You can catch Episode 1 on BBC iPlayer.