World tennis No 4 and French Open winner, Rafal Nadal, has been out of action with a knee injury since Wimbledon in June.
He has already admitted that he is unlikely to play again this year, so what has he been up to?
Huffington Post UK Sport caught up with the 26-year-old tennis ace.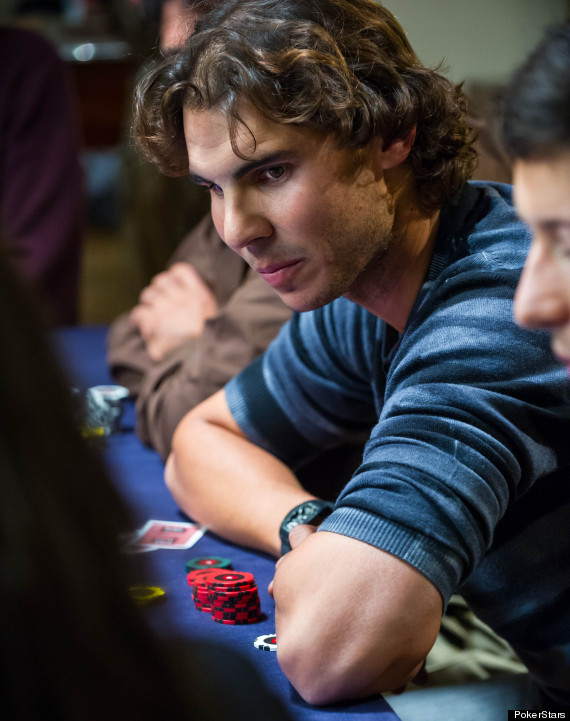 Nadal playing poker against fans at the PokerStars Dream Day Event
When will we see you on the tennis court again?
"I'm very happy that my knee has improved, especially with how it has come on in recent weeks. The most important thing is how I return and not when. Obviously, I want to return as soon as possible, but I will do it when I've one hundred percent recovered."
You're part of Team PokerStars' now but how did you start playing poker?
"I started with friends, like almost everyone. At the end of the day, it's a way of being with a group of friends, to laugh, to have fun with them. That's how I started, spending afternoons and nights together, laughing and playing."
Do you think there are similarities between tennis and poker?
"Yes, poker is a game where you have to stay focused at all times, because if you lose focus rivals may have an advantage over you, as happens in tennis." Nadal has not played a match since Wimbledon in June
What do you enjoy most about poker?
"Well, I like being surrounded by my friends enjoying myself and I think this sums up poker. You can spend a pleasant evening with friends playing poker. As I said in the previous answer, I'm a competitive person and poker is not just a game of luck, but one in which you take control of a situation if you know how to play well. It's a game that I practise and I have to keep improving. As you know, I'm "new" in this and have only been at it a couple of months, but I want to become a competitive player in poker."
How high does the fourth set in the final Roland Garros final against Djokovic rank in your career?
"This set was important in that it won me my seventh Roland Garros. This is one of the most important accomplishments of my career to have made history. In this case, becoming the player who has won the most Roland Garros, and also by the fact that, after a series of defeats in the Grand Slam against the same player, in this case against Novak, to turn around a situation that I had started to reverse with victories in Monte Carlo and Rome. All that was missing was to end it with a Slam final. Maybe the fourth set was even more valuable after what happened in the third."
Was the 2008 final at Wimbledon the best game you've played?
"I don't know. So they say. I do not know if it's the best game I've ever played, but it is one of the games I remember with most emotion, that's for sure. For all that it meant for me to win Wimbledon, and how it developed the game, it was a game within which virtually everything that could happen happened. First it was about control, with two sets up. Then we had to stop several times by rain. I had match points in the fourth set, some more clear than others, in which Roger hit some amazing shots. Of course there was the fact that I had lost the last two Wimbledon finals against Federer. All this made this victory even more special, besides being the first Grand Slam winning outside on clay. Therefore, yes, it is one of the most important moments of my career." Nadal takes in some football
Was the defeat against Lukas Rosol in Wimbledon the worst moment in your career?
"Not at all. The defeats happen. A defeat is almost never your worst moment. Normally, the worst are injury or low moments than you can have. That defeat was coming off the back of a spectacular season. My knee was very badly affected after Roland Garros. I got a little depleted. Regardless of what might have happened to my knee, it was a defeat in the second round. I do not like to lose ever, but hey, maybe defeats are more painful in a final. Like in Australia this year, for example, when I lost against Djokovic, after fighting six hours, or when I lost at Wimbledon in 2007 against Federer in five sets also. I think in this situation it is more painful because you are closer to your ultimate goal, which is winning."
Do you see yourself being fit and ready to return to action in the Australian Open?
"We'll see. My priority when I return is to have my knee fully recovered, and if my knee is 100% ready to play in Australia, I'll be there."
Why are you such a staunch Real Madrid fan, rather than being a fan of your local team?
"Well, I follow Mallorca. Actually, I have been involved with the club for a while, whether directly or indirectly, but it's a team that I have always followed. My uncle (Miguel Angel) played many years with them and it's a club I love. Being a big fan of Real Madrid runs in the family. Since I was tiny, I've been a Madrid fan; I grew up with it at home with my father." Nadal hopes to be back in action soon
How did you feel seeing your friends, colleagues, rivals playing tennis while you've been injured and couldn't play?
"It's a part of my career. I think I had eight or nine spectacular years that I couldn't even have imagined in my wildest dreams. I'm happy with everything that has happened and now this is something I've had to face. You have to accept it and work with the best attitude to recover as soon as possible. I'll try to get back as soon as possible with the same enthusiasm and desire to play."
Rafa Nadal was talking at PokerStars' Rafa Dream Day, where six fans won the chance to meet, play tennis and compete against him in an intimate poker game in Majorca. See how they got on at www.pokerstars.com