Forget what the media's telling you; the public liked chancellor George Osborne more after he delivered his Autumn Statement.
Statistics from SAP Social Media Analytics have shown public sentiment towards our chancellor improved by 16%, with 52% of mentions about him across the internet being positive.
Prior to the Autumn Statement, just 36% of comments were positive, as can be seen in this tag cloud below.

However, after the statement had been delivered, people's sentiment towards Osborne changed, with more positive commentary towards him and the statement appearing across Twitter, news feeds, blogs, forums and the general internet.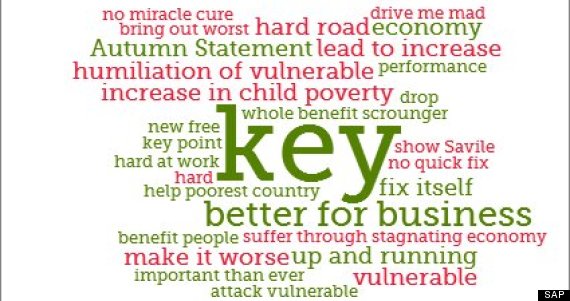 SAP's figures were gathered by Netbase, which trawls more than 150 million sources on the internet including Twitter, News, Blogs, Forums and automatically categorises the sentiment of what is being said online with an average time delay of 11.4 seconds.
Impressively, sentiment towards George Osborne after the speech peaked at 67% positive, the highest it's ever been for him personally, according to SAP.
However, by the afternoon, sentiment had started to slide again, as can be seen in the graph below.
Key sentiments were found around the phrases: 'better for business', 'attack the vulnerable', 'no miracle cure', 'lower corp tax'.

Adrian Simpson, chief innovation officer at SAP UK & Ireland, told Huff Post UK he considered Osborne's 67% peak of positive sentiment to be an achievement, given the hostility he saw online in the run up to the Autumn Statement.
"I think this could have a lot to do with some of the favourable measures introduced for small businesses; notably increased thresholds, lower corporation tax and no petrol rise," he said.
"These findings really indicate the importance of monitoring online conversations. By analysing the reaction to announcements, organisations, public figures and politicians can gain real insight to into what is popular with the general public."
For all of Huff Post UK's commentary on the Autumn Statement, click here