This year, the entertainment world mourned the death of the most awarded female act of all time - Whitney Houston passed away in a Beverly Hills hotel room, ending a glittering career.
Among the 400 awards received by the singer, the 1992 film The Bodyguard stands out as a landmark in Houston's list of achievements. The Hollywood story is being retold at the Adelphi Theatre in a new West End musical, starring Heather Headley in Houston's film role as Rachel Marron and Lloyd Owen as the lethal bodyguard.
Houston's beauty shone on screen in the original film as she morphed from difficult diva to giggly girl in love, as the protective Frank Farmer (Kevin Kostner) melted her steely showbiz facade with his quietly caring manner, whilst a deadly stalker lurked in the shadows.
We see a similar storyline on stage, with surprisingly less emotional complexity than the film; fewer plot twists, a pantomime villain and considerably less character depth.
Hits like Run To You, I Wanna Dance With Somebody and I Have Nothing are the memorable moments of The Bodyguard - therein lies the weakness. The production feels like an elaborate tribute act, with the plot of The Bodyguard incidental to Headley's mesmerising voice.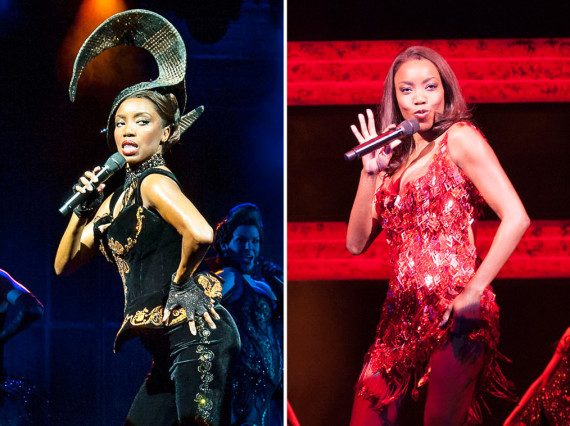 Headley shines in this stage adaptation - softly spoken with an understated and calm presence, the actress neither mimics Houston's film performance nor tries to outperform the late singer. With her own self-assured performance, Houston's songs are allowed to dazzle on stage.
Despite a direct and crisp performance, Owen is certainly no Kevin Kostner. The actor's straight talking all-American character is lifted straight out of a 50s film noir. Kostner's quiet onscreen enigma is replaced with Owen's caricature of a bodyguard, swirling an American drawl around his mouth.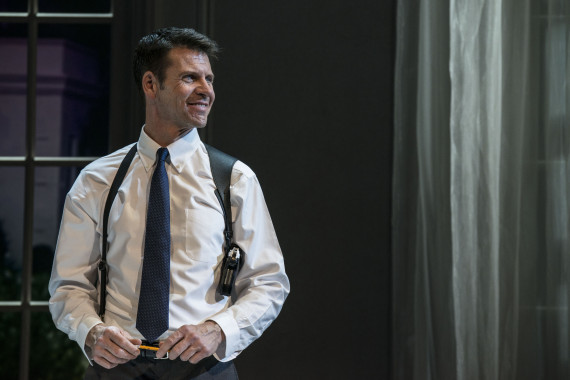 Perhaps it is unfair to compare a stage show to the resources available in a film. However, The Bodyguard clings to the original movie with projected film sequences, including an action packed chase through a snow-covered forest. The cinematic effects gives the impression the musical has an identity crisis.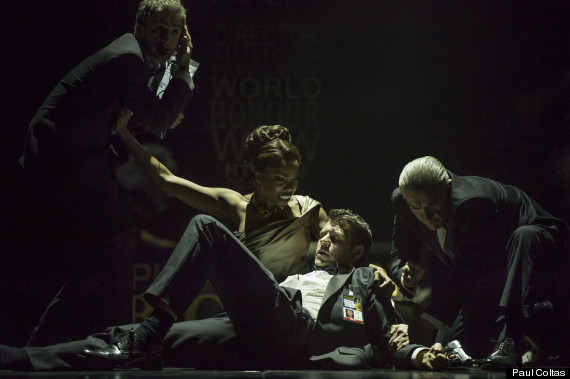 The gimmicky projections almost ruin Headley's star performance of I Will Always Love You. Saved by a dazzling lighting effect that gets the audience on their feet cheering, Headley positively nails Houston's moving song, reaching the huge notes the late singer was famous for.
Alongside a pop-tastic rendition of I Wanna Dance With Somebody, we are treated to infectious 80s bliss, proving that through Headley, the talent of Whitney Houston lives on.
Leaving the show on press night, Houston fans were giddily singing the star's hits all the way out the theatre doors. Those with fond memories of the singer and her music will enjoy this feel-good theatrical treat.
The Bodyguard is running at the Adelphi Theatre, London, 5 Dec 2012 - 27 April 2013.
Watch Heather Headley sing I Will Always Love You from The Bodyguard musical:
The Bodyguard, Adelphi Theatre
The Bodyguard, Adelphi Theatre
Take a look at all of HuffPost UK's theatre reviews:
The Bodyguard, Adelphi Theatre
The Bodyguard (REVIEW): Whitney Houston Lives On
Written by: Matthew Tucker
Date published: 12/06/2012