'X Factor' finalist Christopher Maloney has received the backing of music heavyweight Noel Gallagher
The ex-Oasis star told The Mirror: "I've been watching 'X Factor' and I wouldn't mind seeing the Scouser win, because it'd be great to watch him have a nervous breakdown.
"But I also think James Arthur should win. That lad's the best out of them all.
"I do like 'The X Factor', I've got say, for my sins." Controversial finalist Maloney performed a homecoming gig at Liverpool's Empire Theatre on Tuesday night and told his fans he is hopeful he will be crowned winner of the ITV1 talent contest.
He said: "I've had the worst time out of anybody in regards of critique and lies told about me with people making up crazy stories.
"But I'm in the final three now so hopefully the next time I come back to Liverpool I'll be crowned the winner of the X Factor, so fingers crossed," The Daily Mail reports.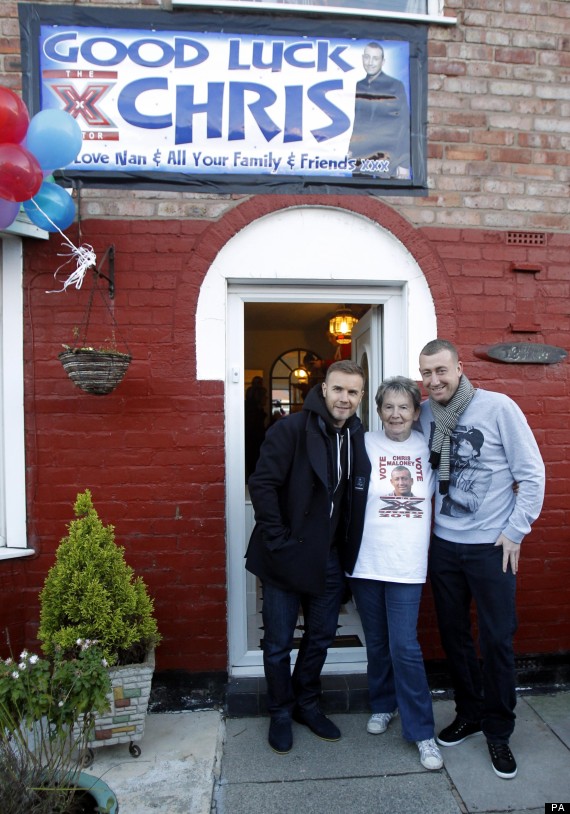 Gary Barlow, Christopher Maloney and his nan Pat O'Brien
And the former cruise ship singer added: "I want to prove Tulisa and Louis wrong about me the most because they've given me such a hard time."
On Saturday night's live 'X Factor' final, which is being held at Manchester Central, Maloney will perform with his mentor Gary Barlow.
However, axed 'X Factor' boyband Union J have warned a win for Maloney could damage the show's reputation.
They said they would be cheering for former Asda worker Jahmene Douglas and singer-songwriter James Arthur instead.