A documentary has revealed a 43-stone mother's fatal struggle to lose weight.
Dominique Lanoise was left a prisoner in her Miami home after ballooning to 600lbs. She was entirely dependent on her daughters to feed and wash her.
The mother-of-six's battle to slim down was captured by TLC in "600 Pound Mum: Race Against Time".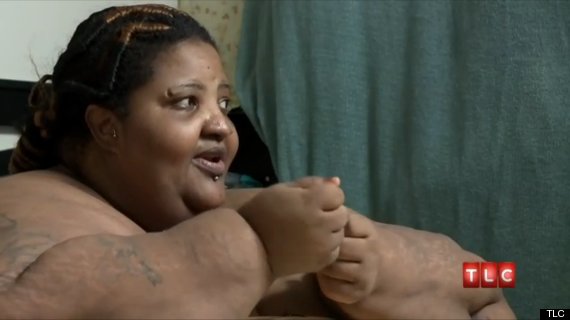 Dominique Lanoise weighed 689lbs at her heaviest
During a house call, Lanoise's doctor Oscar Hernandez presciently informs her: "You're going to die in this bed, this bed is your coffin."
The show chronicles Lanoise being turned down for gastric surgery after failing to get her weight down to the required 500lbs.
Despite being put on a pre-surgery diet, Lanoise continued to gain weight and tipped the scales at 689lbs when it came to the proposed day of her operation.
Dr Hernandez tells the cameras: "It was not a one-time slip up. It was systematic assassination of her weight loss programme."
SEE ALSO:
According to Fox News, Lanoise was close to her target weight at one point, but continued to eat her usual diet of Haitian food, despite sprinkling it with an appetite suppressing powder.
She said: "I don't want to lie, I cheat. But sometimes I feel so hungry."
Eventually however, Lanoise had the operation and her stomach was reduced to the size of an egg.
Following her discharge from hospital, the 41-year-old moved to a rehabilitation clinic but stayed for only two days.
Two weeks later she fell ill and died at home on March 10.
Dr Hernandez described his patient as having "great promise, but it was promise unfulfilled."