Michael Owen has said he was overplayed by Liverpool at the beginning of his career, hampering chances of him becoming a "better player".
Owen scored on his Reds debut at the age of 17 in 1997 and was selected by England manager Glenn Hoddle for the World Cup the following year after a storming start to his career.
But despite winning four trophies in his Anfield career Owen was blighted by injuries and rarely resembled the pacy striker who terrorised defenders when he emerged into his 20s.
"I certainly feel I played 'Too Much Too Soon'," he said on his blog. "I cringe when I look back on a quote I came out with after Gerard Houllier 'rested' me for a game. 'I will rest when I'm 40' I muttered in an interview.
"How wrong could I be? You can't force nature and nature has certainly forced me to "rest" far more than I would have wanted in the second half of my career. Looking back on my career thinking what might have been there is no doubt I would have won more honours had I signed for Manchester United as a youngster.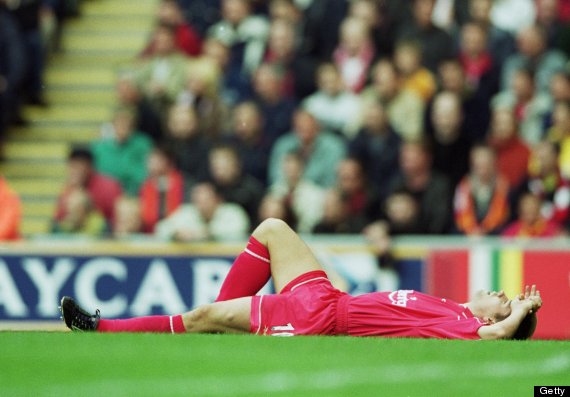 Owen succumbs to injury in 2001
"I am pretty confident I would have been at the height of my powers over a longer period of time too. But would I change anything if I could rewind the clock? Not a chance! The best years of my life were at Liverpool."
Owen's former manager Sir Alex Ferguson recently remarked the 32-year-old succumbing to injuries [he has made just four substitute appearances for Stoke City this season] was owed to his Liverpool days and the forward agreed.
"I have to agree with most [of what Ferguson said] except the usage of the word 'better'. In my opinion, had I been managed differently I would have been at my best for longer as opposed to being a better player.
"As a youngster, I was considered exceptional and in many ways, that was to my detriment. While I was playing every game available to me, there was another young kid in the Liverpool academy called Steven Gerrard who was also showing huge potential.
"Unlike me, who was playing 80-odd games a year, Stevie just couldn't stay fit. I am convinced that this played to his advantage in the long run. I couldn't get enough of it. I would play a full season with Liverpool and then once the season was over, while everyone wrapped their best youngsters up to have a summer break, I was jetting off to play for England, sometimes playing three years above my age group at the highest level. This continued for a few years. I played week in, week out without a break, for years."