'X Factor's winner this year will be chosen from finalists Jahmene Douglas and James Arthur, after Christopher Maloney was voted off Saturday's show.
"I feel like I've already won," said Christopher after his departure was announced, referring to all the criticism he'd had in the press over the past couple of weeks.
"I'm the third finalist, it's been fantastic."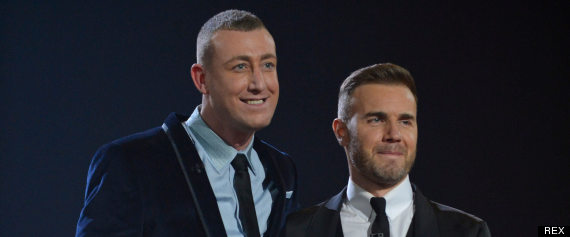 Christopher managed to keep smiling, even after he was knocked out of the competition on Saturday evening
Christopher managed to create controversy one last time before he departed, with judge Louis Walsh promising him "You won't be going home to Liverpool" after his performance. Host Dermot O'Leary, perhaps sensing a Boris Johnson-style gaffe in the making, was quick to ask Louis to clarify his remarks, which Louis dutifully made less anti-Scouse, more pro-Christopher, in all swiftness.
While Christopher Maloney's massive fanbase will be upset at the exit of their favourite, bookies, at least, will be relieved, after giving him outside odds to steal the title.
Saturday's result means Nicole Scherzinger is guaranteed to be the winning judge, in her debut season on the show, after mentoring both of Sunday's finalists.
Jahmen's secure passage was sealed after his duet with Nicole - everyone loves a disaster.
Theirs was a triumph over adversity, forced to improvise their performance during 'The Greatest Love of All' when her microphone failed.
"Biggest show on TV and we could only afford one mike," commented Dermot O'Leary.
Gary Barlow had to follow this crowd-pleaser, teaming up with his protege Christopher on one of his own songs. The pair belted out 'Rule the World', Gary on piano, Christopher on big grin.
"That got me there," asserted Dermot.
The final duet was James Arthur with a fully miked-up Nicole, crooning through 'Make You Feel My Love'.
Jahmene's first song of the night was 'Move On Up', by Curtis Mayfield, which drew the ultimate compliment from Louis Walsh... "you looked like a little Luther Vandross".
Nicole pleaded with British viewers to "change this boy's life" by voting for her boy.
Christopher Maloney was up next, performing Irene Cara's 'What A Feeling', from the film 'Flashdance'. "Not all of us want to hear this beat beat hip hop," reported one of the Scouser's many fans in his hometown.
Finally, James Arthur brought up the rear with 'Feeling Good' by Nina Simone, a rendition that incited fresh praise from all four judges.
Guest stars performing on the night included Kelly Clarkson, Rita Ora and Kylie Minogue, giving a soulful rendition of 'Can't Get You Outta My Head'.
This year's winner will be decided tomorrow evening, when finalists James and Jahmene will be joined on stage by former finalists One Direction, proof that winning isn't everything.