James Arthur has won the 'X Factor' 2012.
The 24-year-old from Middlesbrough was left speechless as show host Dermot O'Leary broke the news.
Runner-up Jahmene Douglas said of James's win: "It's been a blessing to share the stage with such a talent. You're so amazing, James."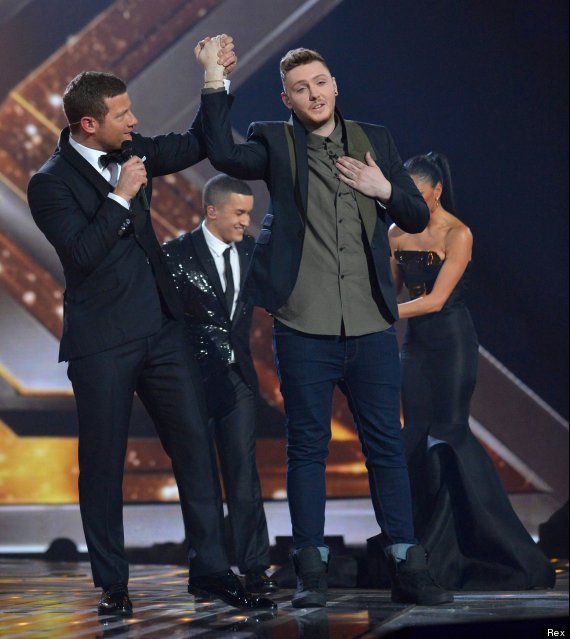 James Arthur wins the X Factor
The boys' mentor Nicole Scherzinger was seen comforting gracious loser Jahmene, before James performed his winner's single, Shontelle's 'Impossible'.
The overwhelmed champion simply said: "Thank you to all of you that voted for me."
The final kicked off with a group performance by the 'X Factor' finalists, however Christopher Maloney - who left the competition after Saturday's show - was noticeably absent from the stage.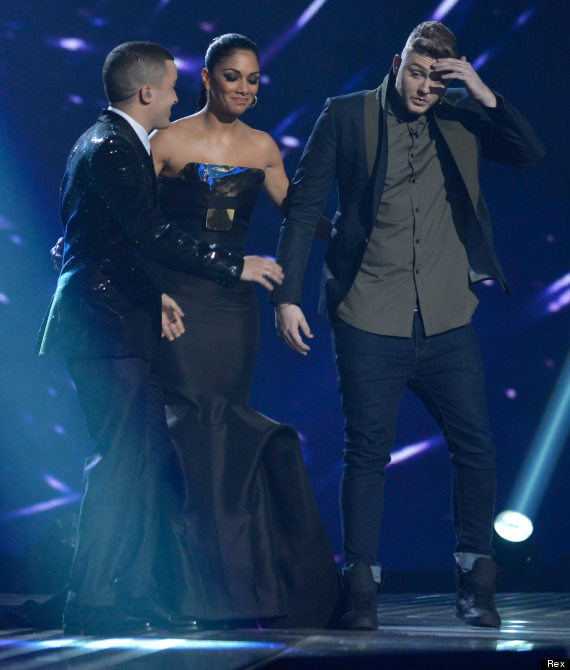 The moment James won
Reports claim he was dropped from singing after turning up drunk for rehearsals. The axed singer apparently went "berserk" backstage earlier in the day, according to The Sun.
However, an 'X Factor' spokesman said: "Chris decided he no longer wanted to be part of the 'X Factor Final' and has gone back to Liverpool."
And Christopher tweeted:
Jahmene performed a moving rendition of Robbie Williams' 'Angels' for his first song of the night.
Louis Walsh said: "You are living proof dreams come true," and he begged viewers to vote for Jahmene.
Tulisa called it her favourite song he had sung so far and Nicole was moved to tears. She claimed, "When you sing I just feel safe… you are like a beacon of light."
Next up, James Arthur proved his ladies' man credentials with a soulful performance of Marvin Gaye's 'Let's Get It On'.
Louis called him "a ready made artist" and he even praised Nicole for her part in the singer's development. He told her: "You've been the best mentor on the X Factor ever."
CHRISTMAS COMPETITION: Click here for your chance to win an iPad Mini!
Gary added: "I'm ready to download your album right now," and James described the experience as "a dream".
Jahmene then sang his winner's single, The Beatles' 'Let It Be', backed by a huge choir. Louis called it "an amazing interpretation of a Beatles classic" and Tulisa commented, "You sung your little hear out."
A clean shaven Gary added: "You've got an unbelievable talent."
James's winner's single also received great feedback from the judges. Tulisa said: "I get you, we are the same people." And Gary handed out his advice: "Never let anybody tell you what to do."
The final saw a performance from former 'X Factor' stars One Direction with their new single 'Kiss You'. However, just like Saturday night's show, there was microphone trouble. This time it was Zayn Malik sounding very quiet.
Emeli Sande and Rihanna also took to the stage. The 'We Found Love' singer stunned viewers with a ballad from her new album before launching into an upbeat track, getting the stadium dancing.
Nicole said her highlight of the series was "sharing the stage" with her two boys and Gary picked Rylan's performances as his standout moment.
Are you glad James Arthur won the X Factor? What was your standout moment of the series?