Manchester City midfielder Gareth Barry has been charged by the Football Association for using "abusive and/or insulting words" in Sunday's derby defeat at home to United.
The England international was visibly angry after Robin van Persie's winner when he conceded a foul on Wayne Rooney to gift possession back to the visitors.
He has until 4pm on Thursday to respond to the charge and if he chooses not to contest it he will receive a one-match suspension, missing Saturday's fixture at Newcastle. Any failed attempt to challenge the charge would see the ban increased to two games.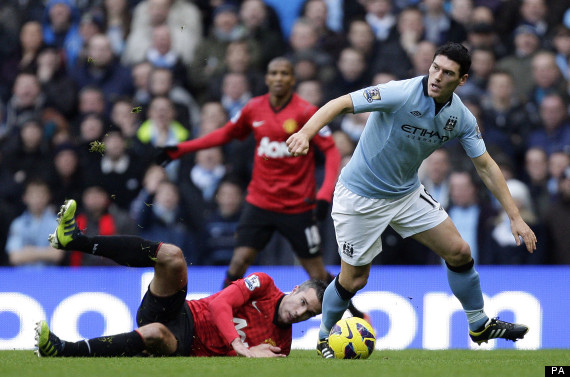 Barry played the full 90 minutes of the Manchester derby
Barry's charge is the latest episode in the fall-out from a controversial encounter which saw Rio Ferdinand left with blood gushing from his eyebrow after he was hit by a coin whilst celebrating Van Persie's goal.
City fan Matthew Stott then attempted to confront Ferdinand on the pitch but was restrained by City goalkeeper Joe Hart before being arrested by police.
Stott, 21, has had his season ticket removed for the rest of the season by the Blues and faces a lifetime ban if found guilty in court of a charge of pitch encroachment. Yesterday he apologised to Ferdinand through his solicitor.