Manchester City manager Roberto Mancini has shrugged off Sunday's derby defeat to United by claiming the Blues are "better" than their rivals.
United's 3-2 win at the Etihad Stadium has put them six points clear of City and Sir Alex Ferguson's side have scored 10 more goals than their counterparts in the Premier League.
But Mancini, speaking in Italy, said: "United have more experience but we have a much better team and play much better football," according to the Daily Mail.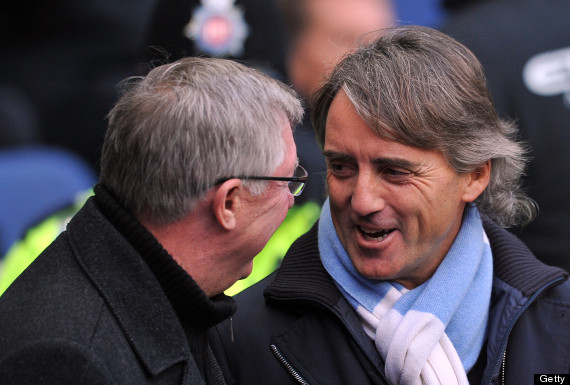 Mancini greeted Ferguson warmly on Sunday
The Italian's renowned candour was apparent in his native country as he was pressed about the club's interest in Daniele de Rossi.
Roma midfielder De Rossi was one of City's transfer priorities in the summer but the Citizens instead had to settle for Javi Garcia from Benfica, who has struggled to impose himself and is not regarded as a first-teamer.
"We tried to take De Rossi in the summer, the deal is not going anywhere and the story is over," he confessed. "I think De Rossi remains at Rome, I do not think he will leave." De Rossi has played for Roma for the entirety of his club career
Mancini also expressed his admiration for AC Milan's Italy international Stephane El Shaarawy, who is Serie A's top scorer but admitted "I do not think we can take him".
He also dismissed suggestions City could end Wesley Sneijder's misery in Milan with Inter. The Nerazurri have said the Dutchman will not play for the club again unless he accepts a reduction in his £200,000-a-week wages. Sneijder is expected to leave Inter
"Sneijder is a great player, but we have players like (Samir) Nasri and (David) Silva that have similar characteristics. Despite his great quality, Sneijder is not a player that we need," Mancini confirmed to La Gazzetta dello Sport.
Typically he was also asked about City's own Italian - Mario Balotelli. Mancini said the irascible 22-year-old was not for sale, despite stating after the Manchester derby he could not understand "why he continues to throw [his talent] out of the window."