Arsène Wenger's last visit to Bradford before Arsenal's black Tuesday came in September 2000 when 19-year-old Ashley Cole cancelled out Stuart McCall's opener to earn the Gunners a 1-1 draw. Although a general comparison of two teams 12 years apart is superfluous, how Arsenal fans must yearn for this 2012-13 side to have the components which played at Valley Parade that day. Seaman, Keown, Dixon, Parlour and Henry all boasted outstanding characteristics which are sorely lacking in the Arsenal Mk. VIII Post-2005, and as James Bond is told in Skyfall, "The old ways are usually the best."
Only it is too late for Wenger now. He may traipse up to the saloon for one last chance, take a punt on Klaas-Jan Huntelaar or Fernando Llorente, but the embarrassment of over eight years without a trophy, despite having sold Robin van Persie, should be regarded as unconscionable by a club of the stature and shrewdness of Arsenal. Barring a Chelsea-inspired miracle in the Champions League, Wenger must seek solace in the FA Cup, a trophy he has already won four times and which is fourth on his list of priorities. Now it is number one.
Arsenal's humiliation at the hands of the League 2 Bantams is exacerbated by Wenger fielding, save Francis Coquelin, his strongest side available. He remarked it was because Arsenal's next fixture against Reading was in six days, but it was convenient spin. It's been over seven-and-a-half-years without a trophy and the club is simply becoming desperate to end the drought. A Bradford fan goads Jack Wilshere
In that time some of Wenger's lowest ebbs have come in the League Cup. Jason Roberts' 119th minute clincher for Wigan in the 2006 semi-final, the 2007 surrender to Chelsea in the final, the 5-1 semi-final debacle at Tottenham the following year, a gutless surrender at Burnley in 2008, battered 3-0 by Manchester City in 2009 and the shattering defeat to Birmingham in the 2011 final at the death already make for a catastrophic catalogue. Bradford may not be the worst of Wenger's defeats in the competition but it is arguably the one which has riled impatient supporters the most.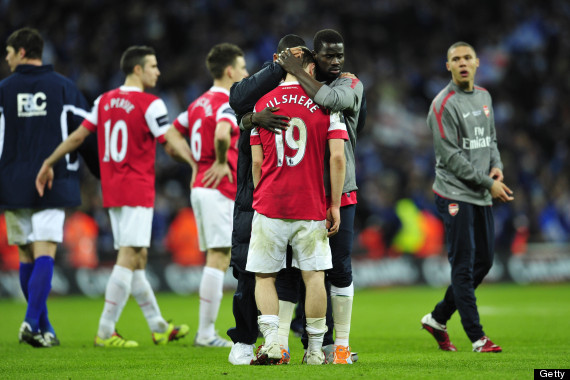 Wilshere is consoled after the 2011 final defeat to Birmingham
"Agonising lack of quality", "utter tripe", "in the death throes" and "a shadow of the team and club it was" were just some of the succinct summaries from disillusioned Gooners. How ironic Coquelin, until his harsh withdrawal, was the visitors' outstanding performer as well. Bradford, who had lead from the 16th minute after Garry Thompson rifled the ball past Wojciech Szczęsny, defended with alarming ease until Thomas Vermaelen ensured extra-time in the 88th minute. Jack Wilshere and Santi Cazorla were industrious but surrounded by a feeble supporting cast which delivered the worst two hours of 2012 since John Carter.
Gervinho, erroneously played as a striker, was reliably unreliable when he neglected the routine task of scoring an open goal in the first-half. His positioning, with Lukas Podolski also starting, is not as inexplicable as it initially seemed. He had thrived as the central striker in Lille's 2010-11 Ligue 1-winning season but nevertheless his erraticism made the promotion ahead of Podolski a daft one. The German prefers the striking role and would certainly have expected to play at the tip of the arrow in a League Cup tie with Olivier Giroud injured. But instead it was Gervinho who fired blanks.
Come the penalty shootout and Cazorla cracked when his tame effort was repelled comfortably by Matt Duke. Marouane Chamakh, hopeless since he replaced the Podolski, then committed the cardinal sin by executing the supposedly-cocky-but-actually-anxious run-up before striking a post. Jingoistic it may sound, but it was little surprise Wilshere and Alex Oxlade-Chamberlain, two of the few players who looked determined to rescue their side, converted their spot-kicks confidently. They were unfazed by playing at a football ground which doesn't cater for journalists in terms of seating arrangements or dining, but some of their team-mates were gormless.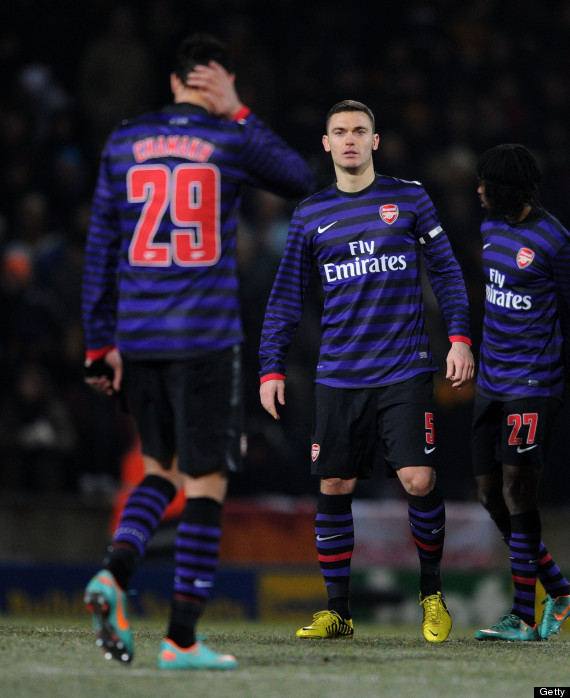 Chamakh trudges back to the centre circle after his missed penalty
Ultimately, it was left to captain Thomas Vermaelen's miskick to complete his side's fate. Whereas past Arsenal captains such as Cesc Fàbregas and Robin van Persie have been galvanised by wearing the armband, it clings to Vermaelen as uncomfortably as a sphygmomanometer's cuff. He used to be nicknamed the Vermaelenator, last night he was Vermaelenated. Vice-captain Mikel Arteta appeared more inspirational yelling encouragement as an unused substitute.
When Patrick Vieiera won Arsenal their last trophy with his last kick of a football, he also kicked part of the soul out of the club. Wenger and his side used to be so easy to detest but now people feel genuinely sorry for them. What a wrench it must have been for Gooners to hear Sir Alex Ferguson sound joyless and concerned for his old antagonist after United slaughtered Arsenal 8-2 last year. He could afford to because Arsenal have not been in United's slipstream for the best part of a decade.
Football has advanced to the extent Anglicising a team is ill-advised and Wenger ought to know after he signed Richard Wright and Francis Jeffers in the same summer 10 years ago, but he has stripped the club of the hallmarks they were once synonymous with. Lightweight and leaderless, the only upside is next summer they may not be in danger of losing a world-class player and can build on the current squad rather than re-build it. Only it has to be without Wenger.
Pep Guardiola may be the heir apparent to Sir Alex Ferguson's crown and it may be wishful thinking, but he is available next summer. Arsenal, belittled as a "s**t Barcelona" by some opposition supporters, represent a challenge, stability and the coveted London life for the Spaniard. He is also an upgrade on the careworn Wenger.