Airports have been forced to cancel dozens of flights as ice and thick fog descended on the UK overnight.
Heathrow Airport had around 60 cancellations affecting incoming and outgoing flights throughout the day, as well as many more delays, according to its website.
The airport began reporting flight cancellations last night and have cancelled more on Wednesday morning.
A spokesman said last night: "It's better to cancel flights when there's fog because in fog you can't land as many planes per hour because you have to leave more space between the planes."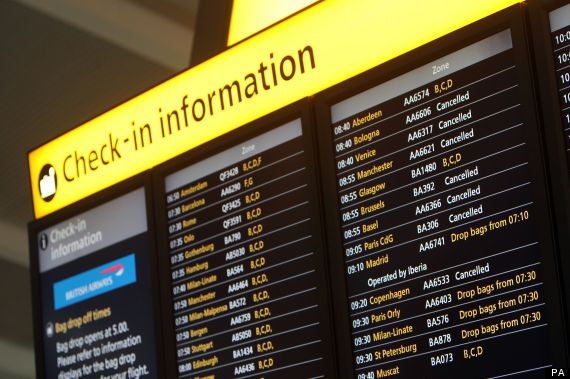 Heathrow Airport had around 60 cancellations affecting incoming and outgoing flights throughout the day
The spokesman added that cancelling in advance helped airlines accommodate passengers on other flights.
Cancelled flights included scheduled trips to Warsaw, Nice, Stockholm, Aberdeen and several German cities.
London City Airport also cancelled six early morning flights to European cities, including Edinburgh, and reported a number of delays on its arrivals board. Passengers sleep as they prepare to depart from Terminal 5 at Heathrow
A message on the airport's Twitter page said: "Visibility has not improved, flight disruptions are present & expected to continue until further notice. Please call your airline for info."
Large swathes of the country will be affected by thick fog and freezing temperatures, which have largely affected the north midlands, and central and southern England. There are aslo warnings for road users.
The mercury plummeted to minus 10C in Tulloch, Scotland, while Chesham in Buckinghamshire endured temperatures as low as minus 8.7C overnight.
A light dusting of snow and wintry showers will greet the coast today along Kent, Sussex, Hampshire, Devon and Cornwall, while other areas will experience snow-like grains which have formed in the freezing fog.
Nick Prebble, a forecaster for MeteoGroup, the weather division of the Press Association, said: "The thick fog should linger through the morning and into the afternoon.
"It will be a bitterly cold day wherever you are in the UK, and very grey where the fog lingers.
"Northern England and parts of Wales are unlikely to see temperatures above freezing today, and will stay around 4C to 6C in southern England."
He also warned of ice hazards in spots which saw rain yesterday, including north-east coastal areas and Kent.