Chocolate retailer Thorntons is embarking on a business overhaul which will see £10 million invested into developing an online platform, and a renewed focus on putting its chocolates where customers want to buy them, but is it all too little, too late?
As we head into the Christmas period, a crucial one for Thorntons, all eyes are on the retailer. Last Christmas, it was forced into issuing a profits warning after poor sales and a confused strategy led to lower than anticipated figures.
Since then, a new financial director has joined, and a series of reviews into the business have been completed. Speaking to the Huffington Post UK, chief executive Jonathan Hart said Thorntons was six months into a three-pronged mission to boost the chocolatier, known as 'rebalance, revitalise and restore profitability'.
Rebalancing is about recognising where customers like to shop for Thorntons' chocolates and amending the distribution strategy accordingly.
"When I arrived at Thorntons we had a legacy retail estate of about 360 stores, there's now less than 320 and we're looking to get down to 180-200 over the next two years," he said.
"The world has moved on since the original retail estate had been created; now we have out of town retailers, online shopping and supermarket distributions, and of course this has been exacerbated by the recession.
"Our grocery distribution (that's the Thorntons goods you see in supermarkets and other retailers - HPUK) has seen significant growth and we're confident this rebalancing will lead to improved profitability."
Thorntons will also step up its presence in Clintons Cards, according to a report in Retail Week; Thorntons has re-opened concessions in 17 Clintons stores after its previous 46 concessions closed when the card retailer collapsed into administration in May.
High Street Hurdles
The second prong of revitalising tackles a chief concern on some market commentators - the state of Thornton's shop fronts, brand and online presence.
Richard Perks, retail director at Mintel, told Huff Post UK he thought the brand was "in a mess".
"Thorntons' problems are in retailing not manufacturing. It doesn't know where it belongs in the market. Its roots are in selling toffee in northern towns and that downmarket element of the business is still there.
"It has tried to move its chocolate further upmarket, and has achieved some good things, but it seems to lack conviction. And over the last couple of years it has lacked innovation as well.
"The stores also look dreadful - dull, dowdy and completely lacking excitement. Their dull yellowy cream decor hasn't changed for years and in so many ways reminds me of Clintons. The stores need a complete makeover both in terms of look and product offer, otherwise they will continue to drift."
Thorntons' Hart strongly disagreed with the assertion, and told Huffington Post UK work was already underway to revitalise the 101-year-old brand.
"We've focussed on working with our existing customers, of which there are many, with an aim to encourage them to buy once more a year than they normally would," he said.
"Christmas and Easter are already strong for us, but we want to fill the space between those two events. The analogy I use is a florist - anyone can buy some serviceable flowers from a supermarket or petrol station, but when you want to say something with flowers or to convey a message, you use a florist. Our aim is, 'whatever you want to say, there's a chocolate for that'."
New products will be introduced to support that message, alongside the refreshing of some tired shop fronts and taking some design elements of Thorntons' newer format stores, currently located in Birmingham, Nottingham, Peterborough, Glasgow and Bluewater.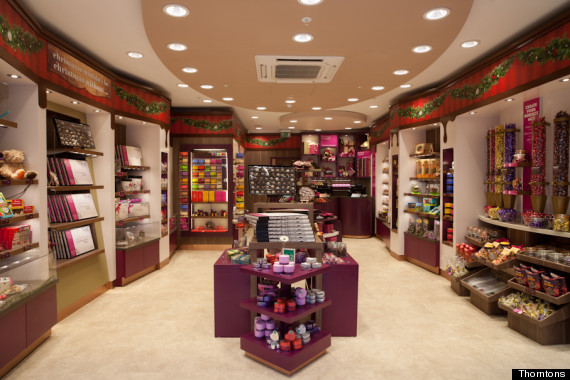 One of Thorntons' newly formatted stores
"Our retail estate has been under invested (in the past)... We're investing a little across a lot of the stores, and taking the things that work and applying them to other stores," Hart said. "It's practical approaches such as taking the chocolates out of their boxes, introducing browsing areas, stripping out some of the fixtures and giving the products more room.
"Given we're almost halving our retail presence, we'll only invest in the stores we're planning on keeping, but these will become showcases for us and act as a marketing presence."
This approach has already won plaudits from analysts Panmure Gordon. In a recent note to investors, it said: "Thorntons' retail portfolio had become too bloated, in part because its manufacturing arm drove decision-making. The consequence is that its high street portfolio moved into losses.
"While some argue Thorntons should exit the high street altogether, we believe that a smaller, profitable chain can act as a 'shop window' for its product, a channel for new product development and a strong reinforcer of brand values."
Thorntons move into supermarkets a couple of years ago raised some eyebrows, with suggestions that - given supermarkets are incredibly cheap - the margins, or the amount of money Thorntons actually makes in profit - would be squeezed unsustainably.
The strategy has been pushed further for this Christmas season, with Tesco winning the rights to stock Thorntons' Continental range. The Grocer reported that in October, Thorntons reported a 7% drop in store sales, but a 9.8% rise in sales of products in supermarkets.
On the contrary, says Hart - the focus on using grocery chains as a distributer actually saves money which would otherwise have been spent on retail, making the net profitability "significantly higher".
"Supermarkets are where people are shopping for chocolates; we haven't created an inferior product, it's still the same idea of an affordable treat for the working man and woman that we started with. We're a step above the mass market brands - I see the brand sitting in the same bracket as Green and Blacks, Lindt, Ferrero and the sort."
Indeed, market positioning and knowing who its customers are is something which has puzzled a number of retail experts for some time.
"The media offensive launched by Thornton's to accentuate awareness of progress on its turnaround plan is a welcome development in a world where too many companies are in a permanent state of denial about the issues they face in these tough consumer markets," business analyst at Company Watch Nick Hood told Huff Post UK.
"But it can't mask the very real challenges it faces in unpicking and re-shaping the flawed multi-channel strategy which has bedevilled it for so long. Market positioning is another conundrum in a world where other brands such as Hotel Chocolat and Montezuma have turned chocolatiers into overt purveyors of illicit pleasure rather than mere Granny-pleasers."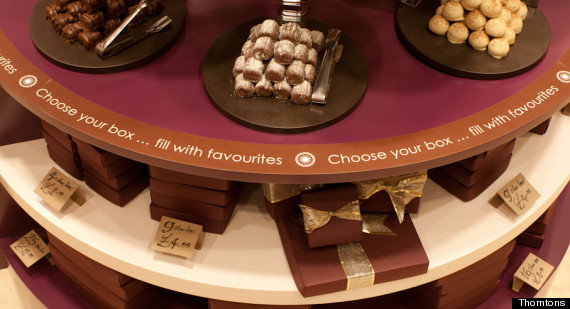 The new format for displaying Thorntons' chocolates in its 'shop window' stores
In response, Hart told Huff Post UK the brand knew exactly who its customers are. "Our core customer is predominantly female who is working and earning an average wage, which is totally in tune with the heritage of our brand," he said.
"She's the NHS worker, or a shop worker. She tends to be a working mother, and other generations of her family; her mother, her daughter, are also our core customers.
"We have to keep her firmly in our focus - she's challenged in these economic times and wants us to provide her with something that is value for money."
Online Strategy
Understanding that customer is also linking into Thorntons' online strategy - despite having a website presence for a decade, just 5% of current sales are coming through online, bringing just £6.6m into the company's coffers. In an effort to double that 5% figure, Thorntons has launched a new website, and will be investing further time and money to encourage online sales.
As with many other retailers, Hart is hoping Thorntons will be able to seize the opportunity to interlink wholesale, retail and online in a more cohesive strategy.
"I look forward to working harder to join up all of the channels - there's no reason why, in three years' time, you couldn't choose a nice bespoke creation online and get it delivered to your local store for you to collect," Hart said.
"And the one thing supermarkets lack is our brand and positioning with our role of personalisation; we're in talks with the .com brands of the supermarkets and doing some test with a number of them at the moment - it could be an interesting opportunity to expose ourselves to a much larger group of customers."
Thorntons' export market is also being reviewed, with a renewed focus on territories with ex-patriates and English speakers; primarily the US, Australia, South Africa and the United Arab Emirates.
"It's early days, but we've been well received so far," Hart added. "I'm encouraged."
What do the stock analysts think?
So, will the changes being introduced by Hart and his new financial director Michael Killick, who joined in January 2012, be enough to turn around the fortunes of this century-old retailer?
Investec was positive about the brand, with analysts Bethany Hocking and Andrew Jeary reporting in a recent note to traders that the past six months were the best second-half results for the past three years.
"The strategic plan, with some rebalancing, remains on course to deliver improved profitability, with many initiatives in place. These include further product innovations, building international sales, and increasing Retailer Brand business," they added.
And Panmure Gordon, while acknowledging its "rubbish" track record, praised Thorntons for its progress over the past year.
"It is positioned in what might be called the mass premium market. It is a treat for working families, having based its initial success upon the steel workers of Sheffield, it needs to retain focus on its roots and be careful not to dally upmarket and certainly needs to position itself above the likes of Cadbury," the most recent analyst note read.
Do you shop at Thorntons for your chocolate needs? Let us know your thoughts below.