Tigre refused to play the second half of the Copa Sudamericana final after they accused security officials of pulling guns on them and beating their players. Sao Paulo, 2-0 up at half-time, were awarded the title a a consequence.
Argentine television showed what appeared to be blood spattered on walls as well as several Tigre staff members nursing bruises and bloodied faces.
Tigre officials said security officials had beaten up players and staff in the dressing room area at half-time and guns were drawn. The trouble off the pitch followed scuffles between the two teams at the end of the first-half.
Nestor Gorostio, the Argentine side's coach, refused to send his team back out for the second 45 and claimed players and staff were clubbed by security officials, while revolvers were drawn.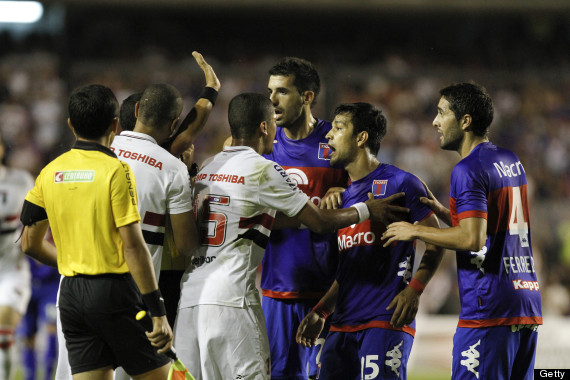 Tigre and Sao Paulo players clashed in the first 45
"They pulled two revolvers," he said. "We're not going to play anymore."
"Police entered and struck our players with clubs. It was crazy. What happened was crazy."
Chilean referee Enrique Osses awarded Sao Paulo the victory after he waited 30 minutes for Tigre to retake the field.
The controversy comes with 18 months until Brazil hosts the 2014 World Cup, with preparations already a source of frustration for Fifa as stadiums and new infrastructure are delayed. Now security has emerged as a major concern for the World Cup, which will be played across 12 venues.
Violence continues to blight matches in the country but the allegations raised by Tigre are also disconcerting for the seven teams who will travel to Brazil for the 2013 Confederations Cup, which will be played at six venues.