A judge has been publicly admonished for suggesting a rape victim "did not put up a fight" and that if someone truly doesn't want to have sex, their body "will not permit that to happen".
The man then beat her, made threats of further violence and raped her. The victim reported the criminal threats the following day, but did not report the rape until 17 days later.
During the 2008 sentencing, Johnson, an Orange County Superior Court Judge, said he had heard cases in which women's vaginas were "shredded" by rape.
In documents published on the Californian Commission on Judicial Performance, he is recorded as saying: "I'm not a gynecologist, but I can tell you something - if someone doesn't want to have sexual intercourse, the body shuts down. The body will not permit that to happen unless a lot of damage is inflicted, and we heard nothing about that in this case.
"That tells me that the victim in this case, although she wasn't necessarily willing, she didn't put up a fight. And to treat this case like the rape cases that we all hear about is an insult to victims of rape. I think it's an insult. I think it trivialises a rape.''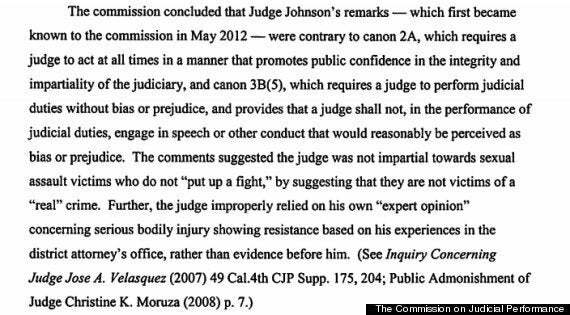 An excerpt from the report, which publicly admonished Judge Derek Johnson
Johnson sentenced the defendant to six years, dismissing the prosecutor's request for a 16-year sentence.
On Thursday the commission voted 10-0 to impose a public admonishment, describing Johnson's comments as inappropriate and a breach of judicial ethics.
Commission chairman Lawrence J Simi wrote: "In the commission's view, the judge's remarks reflected outdated, biased and insensitive views about sexual assault victims who do not 'put up a fight.' Such comments cannot help but diminish public confidence and trust in the impartiality of the judiciary."
Johnson has since acknowledged the comments were inappropriate and has apologised for them, the commission noted. Neither Johnson or his lawyer made any further comment.
The commission determined that Johnson's view that a victim must resist the attack to be a genuine victim of sexual assault was his opinion and not the law.
The comments have echoes of statements made by failed Republican Senate candidate Todd Akin in August.
Akin suggested victims of "legitimate rape" don't need the option of abortion because they "rarely" become pregnant. He later apologied.
Related