Police have confirmed that 27 people have been killed in a shooting rampage at an elementary school in Connecticut on Friday.
Police initially identified the shooter as Ryan Lanza, the 24-year-old elder brother of Adam Lanza. According to the AP, the error occurred when a law enforcment official transposed the names of the two men.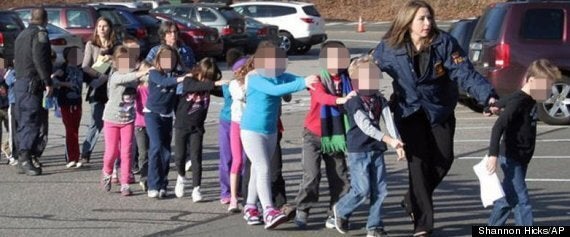 Children are escorted to safety
Twenty children were killed at the school and a second crime scene is being investigated in Newtown at which "there is an adult deceased", officials confirmed.
The shooter was killed during the rampage and several others were injured. The identities of the shooting victims has not yet been released.
He was wearing dark clothing, a mask, a bulletproof vest, and was carrying four guns. A cause and manner of death is pending, police said.
Law enforcement officers said in a press statement that the area was now secure, and that the public is no longer in danger.
State policeman Lieutenant Paul Vance said shootings had taken place in two different rooms in the school.
"It's a very, very difficult scene," he said. "It's a tragedy. It's a tragic scene."
A law enforcement official in Washington said the attacker used a .223-calibre rifle.
President Barack Obama has called Governor Dan Malloy, and pledged "whatever resources the federal government can bring to bear to assist families and the investigation," according to his senior adviser Roy Occhiogrosso at the same press conference.
A photo from the scene shows crying children being escorted to safety by police officers. Children at the school are between five and 10 years old.
"We had to walk with a partner," she said. An aerial view of Sandy Hook Elementary School in Newtown, Connecticut
"It's alarming, especially in Newtown, Connecticut, which we always thought was the safest place in America," he said.
The superintendent's office said the district had locked down schools in Newtown, about 60 miles northeast of New York City.
Parents of children attending local schools received automated phone calls saying all schools in the area had been put on "lockdown" as a safety precaution, meaning all buildings had been locked, allowing nobody to leave or enter.
President Obama said "There is not a parent in America who does not feel the same overwhelming grief as I do" after 27 people, including 18 children, were killed in a mass shooting at an elementary school in Connecticut.
At the White House, spokesman Jay Carney said the Obama administration would "do everything we can to support state and local law enforcement".
Jillian Cruwys, a parent of children at another school in Newtown, told BBC News: "I'm just in complete shock. It sounds like a cliche, but Newtown is the last place you would think this would happen.
"The first thing we heard this morning was there had been an apparent shooting and three possible injuries, and I just can't believe the numbers we're being told now."
Ms Cruwys received a second automated call within an hour from the principal of her children's school to say that all teachers and children at their school were safe.
She continued: "This is just so devastating, the number of families that are impacted by this, it's just really, really hard to know.
"It is a wonderful, very tight-knit and supportive community, a lot of people do volunteer work and stuff. I don't know how anybody deals with something like this. I really don't know, I just think time will tell."