'EastEnders' star Nina Wadia, who plays long-suffering housewife Zainab Masood, is leaving the soap after five years.
The actress and comedienne, who arrived in Albert Square with daughter Shabnam in 2007 as the new owner of the post office, said: "Playing Zainab has been a gift and a privilege."
She added: "I'll always be hugely proud of the ­talented friends I've worked with and I'm so grateful for the special bond with our audience who watch, care and talk to us every day. We're a family of ­millions.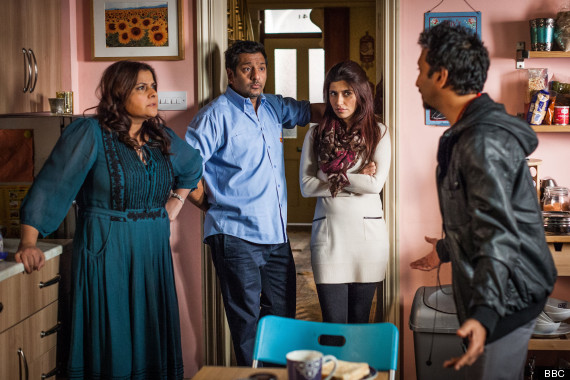 Zainab Masood (Nina Wadia), Masood Ahmed (Nitin Ganatra), Ayesha Rana (Shivani Ghai) and AJ Ahmed (Phaldut Sharma)
"Letting go of something you love is never easy but the time has come to move on and every ending brings a new beginning. Here's to future loves."
In a statement, 'EastEnders' boss Lorraine Newman said: "For the past five years Nina has brought to life the ­wonderful Zainab - the formidable, ­fun- loving, opinionated, fiercely competitive matriarch. Nina's range as an actor is quite exceptional, from her comedic double acts right through to her ability to pull on our heart strings with incredibly moving drama."
"We are very sad to be losing Nina and wish her well in ventures new. She will be missed by the production as much as the audience."
Zainab is not expected to be killed off. How do you think she will leave Walford?