Communities secretary of state Eric Pickles and local growth minister Mark Prisk have launched a new pop-up store in Whitehall to help promote UK entrepreneurs.
Created with the help of StartUp Britain, it's hoped the showcase will act as a blueprint for high streets across the country to emulate.
According to StartUp Britain, six new British start-ups will move into the shop to trial their business ideas every fortnight from this week for at least the next year.
The government has said it will not seeking any financial return and the refurbishment was completed at "next to no cost to the taxpayer" because of the support of Intuit, John Lewis, SNR Denton and StartUp Britain.
"We are absolutely determined to support the high street and we know pop-ups are a great we to bring empty shops back to life and get new businesses going, so we thought why not open one right here in the department in time for Cardinal Place shoppers to get their Christmas goodies," Pickles said in a statement.
"It will also showcase how we can unleash more of our best and brightest young entrepreneurs onto this country's high streets."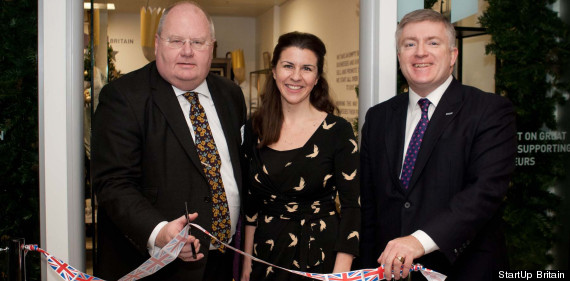 Eric Pickles, Emma Jones and Mark Prisk at the opening of the pop up store on Monday
The first six businesses to feature at the pop up location in Whitehall are:
Silk scarf company Nanukk, established six months ago by 27-year-old Shrewsbury-based designer Sarah McLeod
Milla & Arti, a home-ware business featuring patchwork kits, gift ties and ribbons, set up by product design consultant Deborah Reyner 18 months ago
Brother and sister Mark and Clare Lissaman's ethical organic cotton men's shirt company, named Arthur and Henry after their grandfathers
Former interior designer and single Chiswick mum Esther Gibbs's London Mummy, a homeware business featuring retro bed linen, colourful crochet animals quirky kids stationery, classic toys and games, funky lunchboxes, wall art and more.
Sock entrepreneur Philip Morrow's Morrows Outfitters, created last year as a way to re-establish his great-grandfather's former gentleman's outfitters shop
The English Tee Shop, run by full-time English teacher and designer Alia Qadir from Ealing
Many ministers believe pop-ups are good way to use empty retail spaces; Prisk has already written to the British Property Federation to urge landlords to get on board.
Among the government's initiatives to help reinvigorate the British high street are a multi-million pound strategy, backing local partnerships with ideas to breathe new life into their town centres.
This package includes the doubling of small business rate relief, mentoring from retail experts, and workshops to address town centre challenges. A guide to opening a pop-up will be published soon and StartUp Britain has published a tool kit today.
The government is also providing more than £80 million of start-up loans for young entrepreneurs, which could create more than 30,000 new businesses. Last year, 450,000 people set up new businesses.
Emma Jones, co-founder of StartUp Britain, said the pop up model gives retailers the opportunity to scale their businesses and become a part of their local high street.
"We're seeing record numbers of people setting up businesses, and they are starting out small and online. They are the driving force of the economy," she added.
"This initiative offers them a chance to physically test out new markets as well as get their products in front of consumers and big buyers in a way that has never been available to them before.
"By actively encouraging local authorities to give start-ups access to empty shops across Britain, we hope it will help accelerate British enterprise as well as providing a vibrant addition to the local British shopping experience."
Prisk added: "There's a real appetite in our town centres to get them revitalised so they remain attractive places to visit. And it's not just talk: there are many extremely capable and serious people with some superb ideas; but they need a bit of help to get started... I look forward to inviting all 330 Towns Teams here to see how they could replicate this model across the country."