Manchester City striker Mario Balotelli is taking his club to a Premier League tribunal in a dispute over a £200,000 fine.
City docked the Italian two weeks' wages due to his on-field indiscipline and the matter is now down to the Premier League after Balotelli was unsuccessful with an internal appeal.
The 22-year-old was booked 11 times in all competition last season and accrued bans totalling eight matches in City's title-winning campaign.
He was sent off for two bookable offences at Liverpool, received a retrospective ban after stamping on the head of Tottenham's Scott Parker and was red-carded again at Arsenal.
After the dismissal at the Emirates Stadium City coach Roberto Mancini said he would "probably" sell the former Internazionale forward but last week reneged on that pledge, confirming Balotelli was not for sale in next month's winter transfer window.
City were eight points adrift of United after the loss to Arsenal on Easter Sunday but usurped their neighbours after five successive wins, with Balotelli playing no part in their comeback.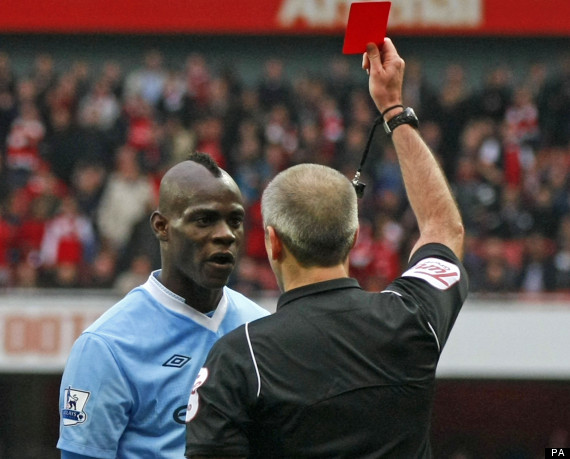 Balotelli is sent off at Arsenal in April
However Balotelli did assist Sergio Agüero for the Premier League-winning goal in stoppage-time on the final day of the season against Queens Park Rangers.
Balotelli has endured a miserable campaign having scored just three goals and he is now regarded as the club's fourth-choice striker behind Agüero, Carlos Tévez and Edin Džeko.
Last month he was dropped for the clash with Spurs due to what Mancini described as a poor attitude in training, and after 51 ineffectual minutes he was substituted in the Manchester derby, with Mancini visibly irked by the number 45's display alongside Agüero.
Balotelli was not included in the weekend squad for the 3-1 win at Newcastle and Mancini explained: "He is not in good form at this moment and it was better for him that he continued to train and to train well. When he is in form, he will play.
"His form is not good - it's not good to play."