Marouane Fellaini could face a possible nine-match ban after he headbutted Ryan Shawcross and appeared to hit the Stoke City defender in a separate incident.
The Everton midfielder, who has enjoyed an excellent season for the Toffees, checked referee Mark Halsey was not watching before he headbutted Shawcross as the pair tangled prior to a corner.
Replays also appeared to show him elbow Shawcross in a second scuffle and then hit the defender in a third confrontation. He finished the game without being booked.
Fellaini regretted his conduct and said: "I apologise completely to Ryan Shawcross, my team-mates and to our fans at the game. I lost my temper and it was unprofessional."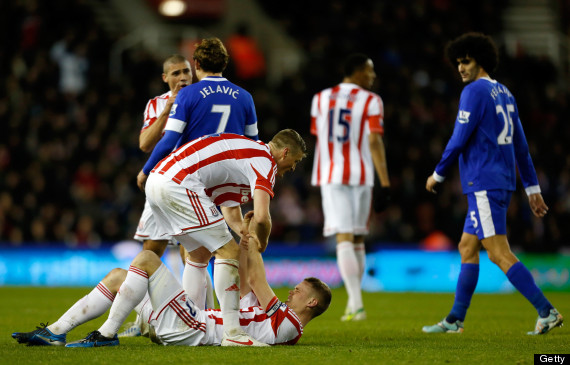 Fellaini looks on as Shawcross is helped up by Robert Huth
His manager, David Moyes, remarked after the match: "It was a terrible thing to do and I expect him [Fellaini] to be punished."
Fellaini added "I didn't feel I was getting any protection from the officials" and "lost my temper" as a result of the grappling which is commonplace in penalty areas prior to set-pieces.
The Belgian has been booked 41 times and sent off once for the Toffees since he joined the club from Standard Liège in 2008.
He is Everton's top scorer on eight goals this season but has stated on two separate occasions he intends to leave the club either in next month's transfer window or at the end of the season.