What's the connection between Disney's latest big screen fairytale 'Tinkerbell and the Secret of the Wings' and some of the most celebrated divas of Hollywood's red carpet?
The answer is Ken Paves, dapper hairdresser to the stars, and the first stylist to be charged with creating a unique 'do' specifically for a Disney animated character.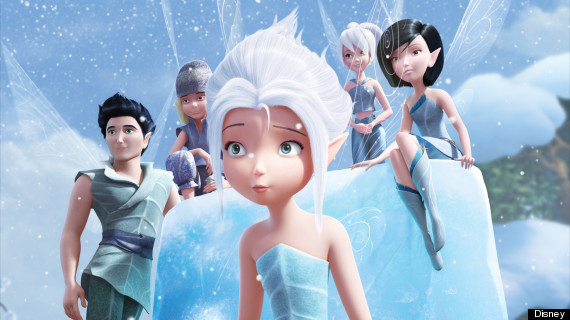 Periwinkle - "she's got her own thing going on," says Ken, hair stylist to the stars
So how did he go about creating an edgy design for Periwinkle, a high-spirited special winter fairy whom Tinkerbell discovers in the woods, and is he going to be borrowing it for his famous clients Victoria AND David Beckham, Megan Fox, Jennifer Lopez and Eva Longoria?
"I realised she wasn't your typical bubble blonde heroine, Periwinkle had her own thing going on so I looked at the ladies around at the moment who have that essence - girls like Rihanna, Michelle Williams, Pink - and I started drawing.
"I have so much admiration for women in the public eye who suddenly go short - it would be like you or me taking off all our clothes and running down the road. It takes guts."
Celebrated beauties who've gone for the chop...
You can see why they all want Ken, including Eva Longoria who charged him with looking after her through her nine costume changes hosting the ALMA Awards in the summer. He's funny, cheerful and dedicated to making women feel good about themselves, and doesn't get bogged down with trends.
His biggest soft spot? "Audrey Hepburn - timeless class. And another elfin one. Someone who knew herself very well, and it came out in everything she did, every look she put together. You can't fake that."
If only we all had a fairytale godmother to make us look so good.
Tinkerbell and the Secret of the Wings is the first 3D film in the Disney Fairies franchise, and is in cinemas nationwide now. Watch the trailer below...