An instalment of 'The X Factor' which featured a Britney Spears impersonator performing a "saucy" routine in a body stocking before the watershed did not breach the broadcasting code, TV watchdog Ofcom has ruled.
Lorna Bliss sparked 35 complaints when she took to the stage in a white stocking, sat astride Louis Walsh and chased fellow judge Gary Barlow through the audience on the show.
ITV said that it "regrets any offence caused" as "not all parents will have considered Lorna's act to be appropriate for prime-time programming".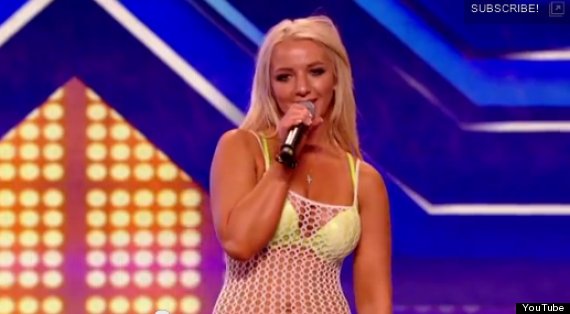 Lorna Bliss on X Factor
But it said that the impersonator wore a transparent outfit on Britain's Got Talent, when the broadcaster covered her nipples with graphic stars, and Ofcom did not find that show in breach.
The regulator said the "brief, mid-shot image of the performer's partially-obscured buttocks as she bent over to camera before her audition began", the images of her straddling Walsh and the single shot moving up her body were "potentially problematic" in the show, broadcast on ITV1 at 8pm.
But it said the audition was "saucy" rather than "overtly erotic or sexualised" and ITV had taken adequate steps to limit the images of the outfit and provocative dancing.
Despite clearing the show, it said it wanted to take the opportunity to "remind ITV to ensure that careful consideration is given to the use of such images in ... programmes scheduled before the 9pm watershed".