Around 90 new pieces of gold and silver have been unearthed in the field where the Staffordshire Hoard of Anglo-Saxon treasure was found three years ago.
The fresh discoveries, made in recent weeks at Hammerwich, near Lichfield, include what is thought to be a part of a helmet and an eagle-shaped object, Staffordshire County Council said.
Speaking at a press conference in Stoke-on-Trent, council leader Philip Atkins confirmed that many of pieces weighed less than a gram.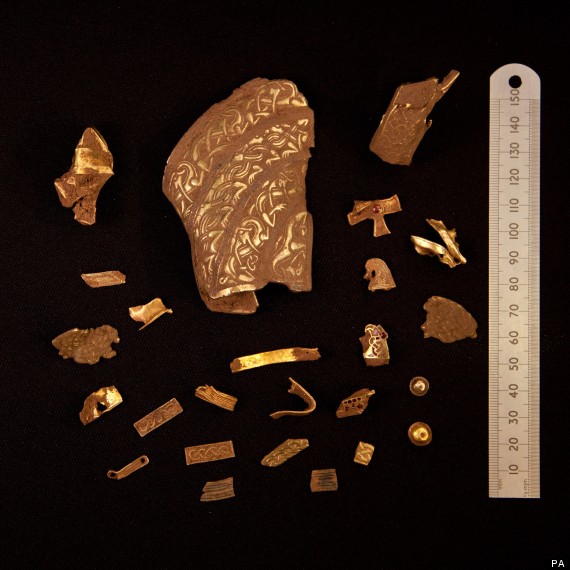 Mr Atkins said: "The ploughing of the same field has unearthed a small number of other gold and silver finds.
"While it is far too early to say exactly what they are, or how old they are, they are certainly interesting finds."
South Staffordshire Coroner Andrew Haigh is expected to rule whether the haul of 90 items should be declared treasure at an inquest on 4 January.
The Staffordshire Hoard, found by a metal detectorist in July 2009, is thought to date from the seventh century and is made up of 3,900 pieces of precious metal and copper alloy.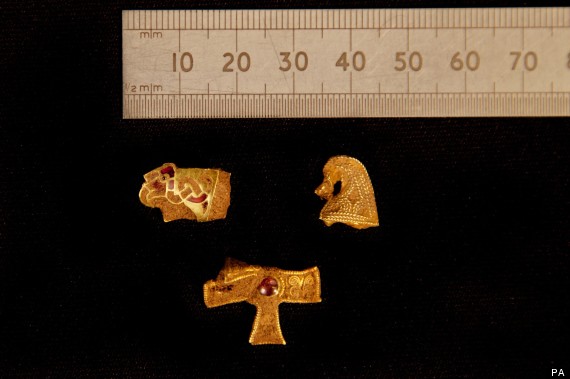 Valued by experts at around £3.3 million, the original finds have since been viewed by more than a million people while on display at 15 venues, including a museum in the United States.
The collection, dated back to the Kingdom of Mercia, went on display after a fundraising campaign which attracted public donations of more than £900,000, as well as contributions from Birmingham City Council and local authorities in Staffordshire.
Stephen Dean, the principal archaeologist for Staffordshire, said the latest discoveries were made during a two-phase search which began on 19 November.
Expert metal detectorists with experience of examining historic battlegrounds including Bosworth and Hastings were involved in the project, while a follow-up phase saw the top-soil of the 13-acre field scoured for further items.
Although Mr Dean stressed it was up to the coroner to determine whether the finds are part of the original hoard, he confirmed that many of the designs and patterns found were similar to items uncovered in 2009.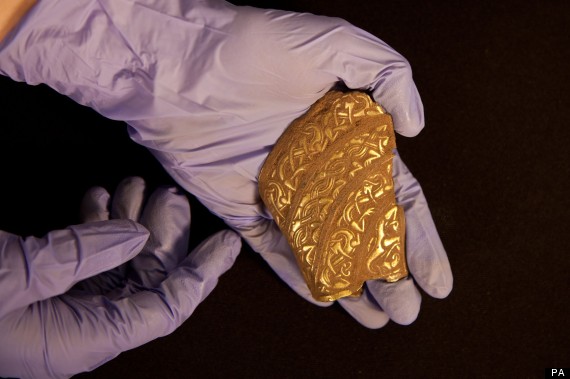 Describing the new objects as hugely interesting, Mr Atkins said they could prove to be a significant part of the "jigsaw" of the nation's Anglo-Saxon heritage.
"The next steps after today are that the South Staffordshire Coroner will rule whether it is treasure or not," he said.
"While it's for the inquest to decide whether it's treasure... we and our partners in the West Midlands will do everything we can to make sure that it comes back to where it belongs."