Rachel Wardley set up her flower work shop in Bath after being inspired by attending a workshop herself. Despite never having been her own boss before, Wardley tackled the challenges of owning your own shop head on, including recognising when it was time to let the retail side of her business go.
How did you get into flower arranging?
Before I opened my business I worked as a women's accessories buyer in London for Debenhams and working for a TV shopping channel – I've always been in retail, having started my career at Mothercare, before moving to Burtons and working my way through its high flyer scheme.
My husband and I decided we wanted to leave London and put a pin in the map to choose where we should go – we both ideally wanted somewhere where we could surf and luckily the pin landed near Bath.
I resigned from my job as a buyer and we moved almost immediately. Initially I worked as a supplier in Bath for three months, but it was only three days a week and it wasn't really satisfying my creative side.
Then a friend who I'd helped by being her birthing partner bough me a course at Jane Packer (a well known flower school) and I really enjoyed the day. When I got home, I went straight to the Covent Garden market and made a few arrangements on my kitchen table.
How did you go from enjoying flower arranging to deciding 'yes, that's what I want to do for a living'?
Well before we moved I did a quick reccie and found a property that I thought would be good rent-wise and started putting some money into savings so we could set up the shop. The location was great, it was on the main route out of town by a mini roundabout so there was lots of passing traffic.
What hurdles did you face in setting up a new business?
I had retail skills and how to deal with merchandise, and how to dress my windows – and for the first few weeks we were really busy. The first shop was called Rachel Lilley and for the first year it ran brilliantly.
Bath is a relatively small city so people found out about us quickly and we got a lot of local press in the daily paper. We did a wedding fair and launched a flower school, as well as providing arrangements for charity events.
But the downside of all this quick progression was that we needed to take on a larger premises really quickly, the flower school was taking off and I needed more space for students.
So after a year and a half, we traded up into our second shop – that was in 2008. The second location was more difficult – we were still popular but we weren't doing as well on paper. We were doing 120 weddings a year and the school was progressing well, but all the profits we made were sunk back into making the retail shop work.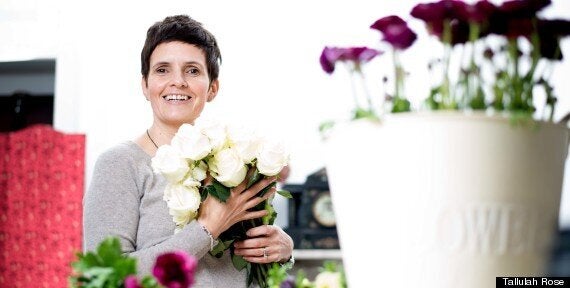 Wardley with some of her creations
In 2009 I had to make the decision to close the main flower shop – It was a really hard decision, when it's your business and you are forced to do something like that it makes you feel like you've let yourself down. But it wasn't a decision I made overnight so when it got to the point that we physically shut down the shop, I was mentally ready. People still ask me about the shop today.
That must have been heartbreaking. What happened next?
Well, I had one more Christmas wedding so prepare, so I did that and then took three months off to work out what I wanted to do. I came out of that time knowing that the flower school was the best business model, so we relaunched that as Tallulah Rose.
We offered half-day courses initially, then introduced a four-week career course. Our flower school was trying to provide the full package for anyone who was interested in learning about how to launch a business too – I enjoyed the Jane Packer course but felt there were elements missing on the business side. I'm confident you could leave one of my courses and set up your own business immediately.
We now offer day courses and Christmas refresher courses too. I use pop ups as I can recreate different looks for each school and be in the heart of Bath for an affordable price.
I'm making about 50% margin for each of the courses now, and only need five or six people per course to achieve that. By the end of 2012, we will have completed 12 of the four week courses and a number of bespoke classes.
How did you find raising funding, given you started at the beginning of the recession?
When I first started I was with HSBC and although I didn't really need any loans, I was hoping for helpful ratios in terms of our overdraft and fees, but we didn't find them helpful at all. We moved to Lloyds TSB and it was much more supportive.
When we closed Rachel Lilley I paid off all the debts and shut the account – it was really important for me to start afresh with Tallulah Rose.
What does the future hold for you?
I still really love working with flowers, if I stopped that I'd really miss it. I never thought I'd be a teacher in a million years, even though both of my sisters are, but I love that whole thing of taking people on their first day when they known nothing, through the four weeks and then deliver them out the door with a new passion for their flower business.
I enjoy helping others to learn from the mistakes I made and I want to be known for running the best flower school in the UK.
And what advice would you offer to anyone thinking of starting up their own business?
Have as many facts about your business and your market as you possibly can. And don't hang onto the idea of setting up a physical shop straight away – I'm always cautious when students tell me they want a shop – you can easily work out of a small studio space and take up a pop up store for a trial to see how it works out.
Related