'Gangster Squad' may have teamed some of the hottest names in film right now - Emma Stone, Ryan Gosling, Josh Brolin, Sean Penn - but it seems some of them had an easier time of it than others.
HuffPostUK are pleased to be the UK host of the exclusive featurette - WATCH THE STARS IN ACTION ABOVE.
Josh Brolin has revealed that years of smoking meant he and Sean Penn had to struggle their way through a fight scene, during the making of the film.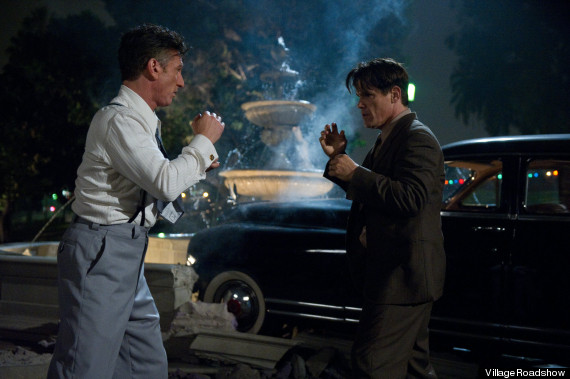 Sean Penn and Josh Brolin fight - not as easy as it looked
The 'No Country for Old Men' star portrays Sargeant John O'Mara in the period film, about cops who are trying to keep Los Angeles free of gangsters during the 1940s and '50s, and one scene featured a bust up between Brolin and Penn's character, mobster Mickey Cohen.
The brawl put the pair's fitness to the test, and Brolin admits it was made all the more difficult because Penn had not perfected the fight choreography.
He says, "The fight I did with Sean Penn (was the most challenging scene). He didn't rehearse as much as I did so his fists were flying wildly during the fight, hoping they (camera operators) got something that was usable. It was a tough fight and I love the way that it turned out, but I think for both of us being the current and ex smokers that we are, that was the most challenging on an oxygen level."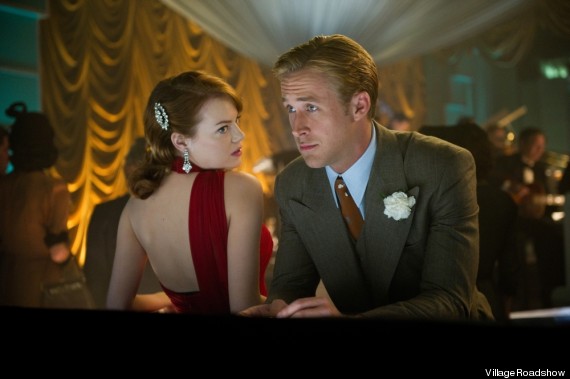 Emma Stone and Ryan Gosling also co-star
Here's some official blurb on the film...
Los Angeles, 1949. Ruthless, Brooklyn-born mob king Mickey Cohen (Sean Penn) runs the show in this town, reaping the ill-gotten gains from the drugs, the guns, the prostitutes and--if he has his way--every wire bet placed west of Chicago. And he does it all with the protection of not only his own paid goons, but also the police and the politicians who are under his control. It's enough to intimidate even the bravest, street-hardened cop...except, perhaps, for the small, secret crew of LAPD outsiders led by Sgt. John O'Mara (Josh Brolin) and Jerry Wooters (Ryan Gosling), who come together to try to tear Cohen's world apart. "The Gangster Squad" is a colorful retelling of events surrounding the LAPD's efforts to take back their nascent city from one of the most dangerous mafia bosses of all time.
Find out more at http://www.facebook.com/GangsterSquadMovieUK
Gangster Squad is in UK cinemas from 10 January. Watch some stills from the film and behind the scenes below...