Communities threatened by floodwaters will enjoy some respite on Friday before rain returns to lash the UK during a washout weekend.
Some parts of the country may even enjoy a peek of sunshine, but that will disappear when the next band of rain comes into the South West and moves across the country later today.
Forecasters say up to 45mm, almost 2ins, of rain could fall in the 24 hours from 6pm tonight, and the Environment Agency is warning people to be braced for more threats of flooding.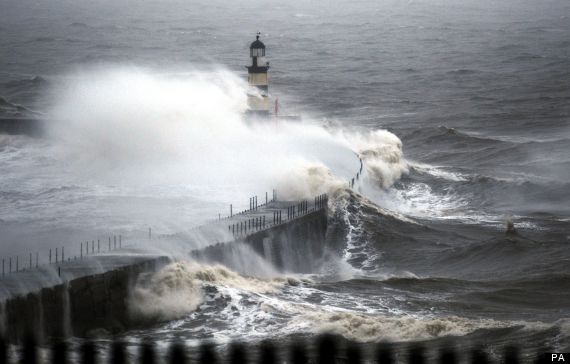 Waves crash into the sea wall at Seaham Harbour as parts of the UK are braced for poor weather
The threat will cause concern for hundreds of thousands of people who will be travelling this weekend for Christmas break.
Motorists are being warned not to use flooded roads, and an AA spokesman said the service attended more than 320 breakdowns yesterday due to vehicles getting stuck in floodwater.
Thousands of people travelling for the Christmas break are being urged to plan ahead as the heavy rain disrupts road and rail journeys.
A number of services have been cancelled because of flooding, the National Rail website said. A car makes its way along a flooded road
Trains are cancelled between Ellesmere Port and Hooton near Chester until further notice, with a replacement bus service running. Trains between Crewe and Chester are also cancelled because of flooding, while trains between Chester and Wrexham General are delayed by up to 25 minutes.
There are delays of up to 20 minutes between Darlington and Newcastle, while a landslip in Stirling, central Scotland, means buses are replacing trains between Bridge of Orchy and Crianlarich.
Floods near Uttoxeter and Stoke-on-Trent have also caused rail disruptions, with a replacement bus service, while there are delays between Derby and Nottingham and East Midlands Parkway.
Services between Liskeard and Looe are also affected, with replacement bus services adding 30 minutes to journey times.
Heavy rain swept England and Wales on Thursday, leaving residents on tenterhooks as river levels rose.
But while large swathes of the country were on alert, there was no repeat of last month's flooding that caused widespread devastation.
In Wallington, Hampshire, there was a severe flood warning as the River Wallington threatened to burst its banks.
Havant Borough Council evacuated 85 properties as a precaution, the Environment Agency said, and staff reinforced a flood wall which had shown signs of cracking.
The wall held, and flood warnings for the area were removed as the levels receded.
Nearly 400 flood alerts and warnings are currently in place, the agency said, including 91 more serious flood warnings, focused on the South West, East Anglia, the Midlands and the North East.
The River Ouse in York is rising steadily, and levels are expected to peak late on Friday afternoon, while the nearby River Ure is also being monitored by Environment Agency staff as it rises. In Dorset the River Stour is rising and threatening farmland near Bournemouth.
In Cornwall, there was a minor landslide near Gorran Haven which left a tonne of soil blocking the road.
In St Cleer, near Liskeard, one woman had to be rescued from her car after becoming trapped by floodwater, while a man became trapped after driving over a humpback bridge crossing the Bude Canal and found himself surrounded by fast-flowing and rising water, Cornwall Council said.
John Curtin, head of incident management at the Environment Agency, warned people to be alert to the risk of flooding over the weekend.
He said: "Our teams are out around the clock to minimise the risks and prepare for flooding, clearing drainage channels and ensuring that flood defences are working properly.
"We would urge people in at risk areas to keep up to date with the latest situation by checking the Environment Agency website and remain prepared for flooding in their area by signing up to receive free flood warnings.
"With a very busy travel weekend coming up, we would also ask that people check their route before travelling, and remember not to drive or walk through flood water."
Andy Ratcliffe, a forecaster with MeteoGroup, the weather division of the Press Association, said rain had been confined to the North East and Scotland overnight, and that today would largely be dry.
He said: "Throughout today rain will ease in many places, but it will be persistent across eastern Scotland.
"It will be largely dry for most, with the risk of the odd shower. It will be dry until evening, when the next band of rain moves into the South West.
"It will rain during the evening, before pushing north east across most areas overnight, heavy and persistent, with large amounts of rainfall, especially in the South West, which will see between 40mm and 45mm in the 24 hours to 6pm on Saturday.
"Through tomorrow the heavy pulse of rain will push north eastwards, and it will be patchy across much of England and Wales.
"It is a really unsettled picture, and over the next few days there will continue to be a pretty wide risk of flooding."