Choosing a sporting highlight of 2012 is akin to a child agonising over which confectionary they can have in a sweet shop. We were treated to an enthralling Premier League finale, a nerve-shredding Champions League final, the miracle at Medinah in the Ryder Cup and Andy Murray ending Britain's 76-year wait for a singles Grand Slam. But all of those events were dwarfed by the 30th Olympiad, London 2012.
For just over a fortnight many Brits could forget about their own worries and seek escapism via the 24/7 coverage of the Olympics. Whether you were in the office, in the car, in the park or at the venue, sports you never watched - let alone cared about - suddenly transfixed you.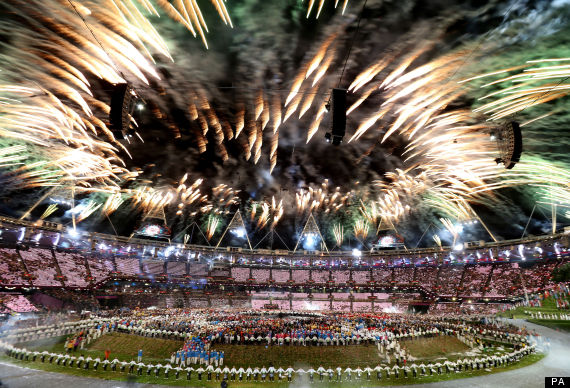 All the stars are coming out tonight
Hardened cynics were, temporarily at least, softened by the good vibrations which reverberated around the country. It may be shamelessly jingoistic but that Britain was hosting its first Games since 1948 inevitably made the interest tenfold.
Transport inconveniences were scarce, Brits took a hiatus from their queuing pastime and strangers actually spoke to one another in public out of courtesy, rather than moaning about their music being on too loud.
Best Of 2012 Olympics In Pictures
And then the games began, albeit not with the assistance of Bane blowing up Danny Boyle's green and promised land. The spectacular opening ceremony on Friday 29 July was a mesmeric and poignant prologue to a feast of sport.
Team GB had to wait until five days into the Games to win their first gold medal, but it was to be the first of 29 - their biggest haul since the 1908 Games, also held in London. The Bolt and the Mobot
But what was the highlight? Bradley Wiggins' road race win? Super Saturday? Mo Farah's double triumph? Katherine Grainger finally collecting her first gold? Ben Ainslie making it four in a row? Sir Chris Hoy becoming Britain's greatest Olympian? Some won't be namechecked and that only underlines the magnificence of Britain's achievement at London 2012.
Aside from British interest, there was Usain Bolt charming just about everyone, Michael Phelps becoming the most decorated Olympian of all time, 32 world records and many more. It's just a shame it lasted less than three weeks.