Sheridan Smith reveals she had an emotional time of it, filming 'Quartet' with some British blue-blood acting royalty around her, and a Hollywood legend directing.
"When Dustin Hoffman came to see me backstage after a play I was in, he was crying (the play was sad), and then he phoned and asked, 'Do you want to be in my movie?' So there were more tears there," she laughs.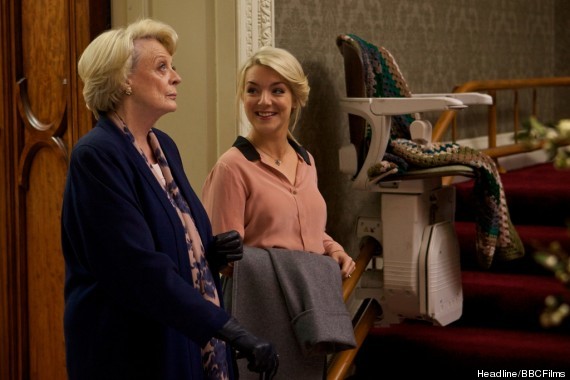 Sheridan Smith with her 'Quartet' mentor, Dame Maggie Smith
Sheridan Smith has, after lead roles as TV's Mrs Biggs, the West End's Hedda Gabler, cemented her status as one of the country's brightest young stars, as the only billed actor without a free bus pass in this surefire hit, on general release from New Year's Day.
But it seems she, too, remains in awe of the quality of actor around her during the filming of 'Quartet', which tells of a love lost and rediscovered amidst musical gentlefolk who live out their retirement in Beecham House, still keeping in tune and tuning themselves up for the annual Verdi concert.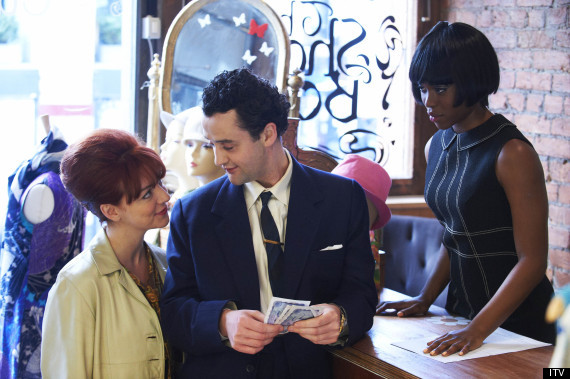 Sheridan Smith has had a big year already, including her title role on TV as Mrs Biggs (above, with Daniel Mays)
We'll start with Dame Maggie Smith, theatre and screen veteran, and now telly favourite as Downton's indomitable Dowager. Smith Junior lets out an impressed-sounding sigh.
"She's a genius. I watch her at work, and you never believe she's saying lines.
"She took me under her wing. She's so nice. On stage for Hedda Gabler, she sent me opening night present and card, left me a voicemail the other day, I'm overwhelmed, really."
Then there's Billy Connolly...
"Billy was a little nervous like me, but he's so quick-witted and funny, it doesn't matter. There's a scene at the beginning and Billy's riffing, we all fell about laughing, and Dustin left it in the film.
"He wanted it to be real. All the supporting actors are old music hall veterans. Dustin would get on the piano and we'd all jam. It was such a community."
'Quartet' is witty without being cynical, with a director confident to let the emotion in when it presents itself, as Sheridan Smith reveals...
"One scene near the end, Dustin told me, 'Just think how you felt on this film, and use it.' Of course I choked up. The next couple of takes, I was crying so much they couldn't use them, I was inconsolable."
But Smith seems genuinely unable to put herself in this same acting pool of talent, despite her own year of meteoric success.
"It's bonkers, I think I'm rubbish. But other people have got such faith in me, I can't let them down.
"These aren't things I've gone after...they've come to me. I feel like I'm blagging it, to be honest. But I'll keep going. I've got away with it so far. I'll get found out one day."
Quartet is in UK cinemas from New Year's Day. Watch the trailer below...