Steven Gerrard is set to open contract talks with Liverpool after manager Brendan Rodgers hailed the club captain as an "inspiration".
Gerrard, whose form has been uncharacteristically poor this season, performed well and scored in the Reds' 4-0 Premier League victory against Fulham at the weekend.
The 32-year-old England skipper's contract expires in 2014 but Rodgers is eager for the midfielder to extend his lifelong affiliation with the Anfield side.
"He is vital to us, and I recognise that," Rodgers said. "I know he has 16 months left on his contract, but I would want him to go beyond that for this club and this team.
"This is a guy who has led his life right as a football player and that allows you to play well into your 30s. Absolutely I would want him to stay beyond his current contract and extend it – there is absolutely no question about that.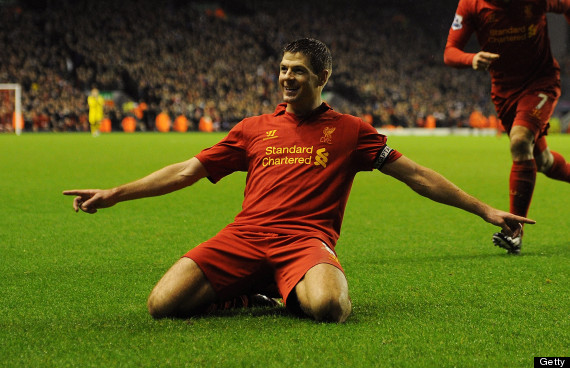 Gerrard celebrates his goal against Fulham
"He has been an inspirational captain for us, he has been a huge figure in the development of this team. We are improving, we are growing, and he has influenced that."
Gerrard made his Liverpool debut in November 1998 and has won three League Cups, two FA Cups and a Champions League title with the club.
He has captained the Reds since 2004 and, despite handing in a transfer request the following year, did a swift U-turn to pledge his allegiance to his boyhood club.
Earlier in the campaign Gerrard was earmarked as the fall guy when Lucas Leiva returned to the first-team fold from injury, so underwhelming were his displays in a red shirt.
But Nuri Şahin and Joe Allen's struggles have reaffirmed the Merseysider's importance to his team and he has scored in his last two matches after nearly three months without a goal.