Gerry Anderson, the creator of Thunderbirds, has died aged 83, his son announced.
Writing on his website Jamie Anderson said his father had suffered with mixed dementia "for the past few years" and died in his sleep at midday on Boxing Day.
"Having already decided with his family on a care home for himself earlier this year, he moved in there in October," he said.
Mr Anderson had spoken about dementia before, telling the BBC his wife realised he was unwell. "It was my wife Mary who began to notice that I would do something quite daft like putting the kettle in the sink and waiting for it to boil."
Nick Williams, the chair of his fan club Fanderson paid tribute to the film and television producer saying: "To those who met him Gerry was a quiet, unassuming but determined man.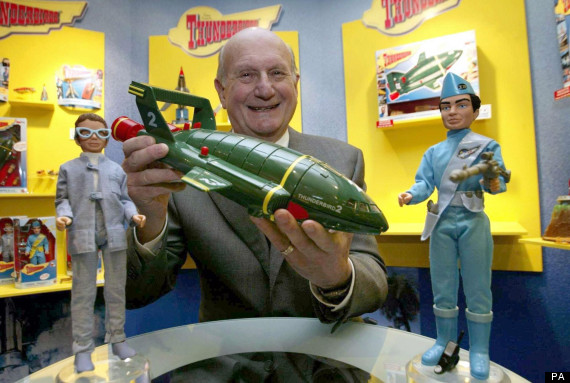 Gerry Anderson died age 83
"His desire to make the best films he could drove him and his talented teams to innovate, take risks, and do everything necessary to produce quite inspirational works.
"Gerry's legacy is that he inspired so many people and continues to bring so much joy to so many millions of people around the world."
Jeremy Hughes, Chief Executive at Alzheimer's Society said: "Gerry Anderson has been an outstanding supporter of Alzheimer's Society and campaigner on behalf of people with dementia.
"He was determined, despite his own recent diagnosis, to spend the last year of his life speaking out for others living with dementia to ensure their voices were heard and their lives improved.
"With the support of his family, Gerry tirelessly attended events around the country to raise awareness of the condition and to raise funds for a cure.
"The last time I saw Gerry was at the start of our annual Memory Walk in September where he was our guest of honour and star starter alongside Carey Mulligan. Gerry, accompanied and supported by his son Jamie, stayed to speak to the crowds, wave off the walkers and shake hands with the many friends and fans who had come to meet him.
"Gerry Anderson will be missed not only by the worldwide fans of his TV shows, but by all of us at Alzheimer's Society who he has inspired to continue in our work to ultimately defeat dementia."
He is survived by his three children and wife Mary.
Donations in his memory to the Alzheimer's Society can be made here.