Taylor Swift can finish the year on a high.
As well as enjoying some of the year's best album sales for her latest effort, 'Red', as well as being romanced by arguably the world's most desired teenager (sorry, Beliebers), the country singing star, still only 22, has been named the top of the list of most charitably-minded stars.
She was handed the award by bosses at Do.Something.org for donating $4 million to the Country Hall of Fame and Museum in Tennessee and becoming the youngest person to receive the Ripple of Hope Award from the Robert F. Kennedy Center for her philanthropic efforts.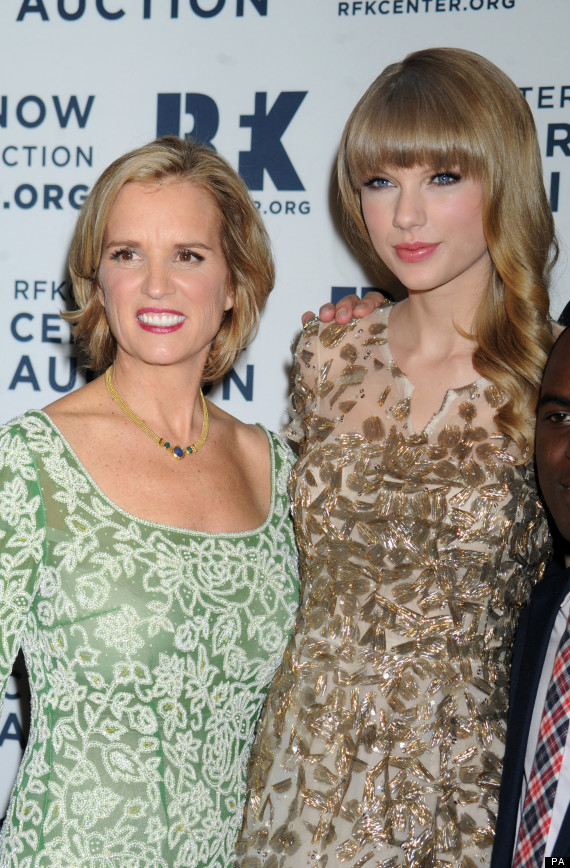 Kerry Kennedy with the recipient of the Ripple of Hope Award, Taylor Swift
Presenting the Ripple of Hope Award in early December, RFK's youngest daughter Kerry had explained of the prize in her father's name: "He described it in his Ripple of Hope speech, which this award is named after. He said, 'This world demands the qualities of youth: not a time of life but a state of mind, a temper of the will, a quality of imagination, a predominance of courage over timidity, of the appetite for adventure over the life of ease.' Here's a young woman -- 22 years old -- who has put herself out in the world, and in an incredibly powerful and strong way."
Swift will be able to raise a glass to her latest achievement at her new beachside mansion, built next to the one belonging to RFK's widow Ethel. Swift bought the house during the summer, when she was dating Ethel's grandson Rory.
Coming in at number two is actress/singer Miley Cyrus, who has raised awareness for a number of charitable organisations, including the Save The Music Foundation and animal shelter Saving Spot! Rescue.
Rounding out the top five are eco-friendly hunk Channing Tatum for his work with the Rainforest Foundation, Lady Gaga for launching her Born This Way Foundation, and Justin Bieber for his dedication to school-building charity Pencils of Promise.