Arsène Wenger has hinted Thierry Henry could return for a third stint at Arsenal in the January transfer window.
Henry scored two in seven games for the Gunners last season during a brief loan spell from MLS side New York Red Bulls and is training with the club at their London Colney base.
Wenger was careful not to dismiss the possibility of the 35-year-old pulling on the red shirt again.
"I've not lost interest in him," said Wenger, who signed Henry from Juventus in 1999.
"I've not completely (ruled it out). But I haven't spoken about it with him at all.
"He's still coming today to practice with us. We are very close (personally), but at the moment I think he has had a second spell at the club that was very successful. You have to be cautious that it's not one time too many." Wenger embraces Henry after his comeback winner against Leeds last year
Wenger today did however rule out a move for Newcastle striker Demba Ba.
Alan Pardew's admission he would let Ba leave Tyneside if he did not remove the £7.5million release clause in his contract sparked rumours Arsenal might make a bid for the striker.
Wenger has struggled to fill the void left by Robin van Persie, with Theo Walcott the club's top scorer with 11 goals so far this season. Ba would seem an ideal and prudent option, but the Frenchman denied he was interested in signing the 27-year-old.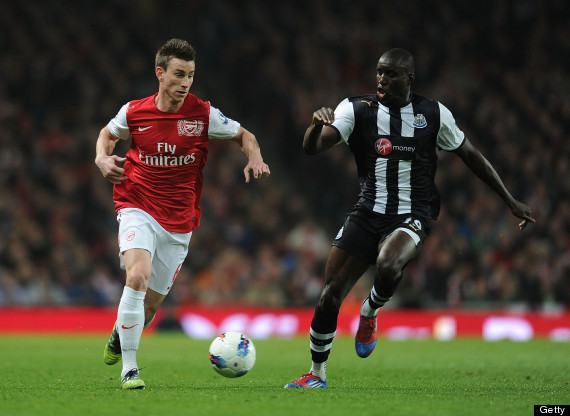 Arsenal are one of the few Premier League teams Ba hasn't scored against
"I like Demba Ba, yes," the Arsenal manager said ahead of his side's match at home to Newcastle on Saturday.
"I don't think [this] is the right place to speak about that, because he plays against us tomorrow.
"I wouldn't like to put Newcastle or us or him in an uncomfortable position. If you ask me, 'Do we sign Demba Ba?' I say no."
Gervinho is absent for the African Cup of Nations in January, unlike Senegalese Ba, leaving Wenger with fewer options up front.