First-time home buyer numbers reached a five-year high in 2012, helped by improvements in affordability, a study has found.
However, the average age of a first-time buyer has increased to 30, from 29 a year ago, and the typical deposit required is 20%, compared with the deposit of around 10% put down in 2007, Halifax found.
Around 216,000 people took their first step on the property ladder in 2012, showing a 12% year-on-year increase and making up two fifths of all house purchase loans.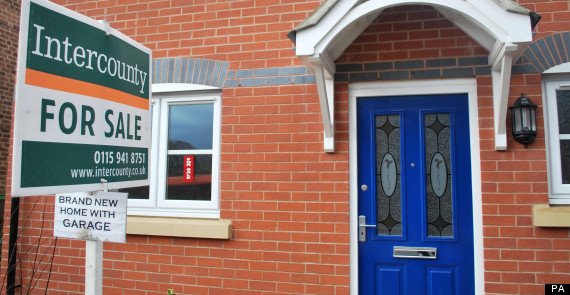 100% of districts in London are deemed "unaffordable"
While this is the highest number since 2007, it is still almost half the 402,800 first-time buyers who bought their first home in 2006.
Halifax said that improved mortgage affordability was a factor behind the recent increase. A new first-time buyer spends around 27% of their disposable income on their mortgage payments, which is comfortably below the long-term average of 34%.
However, the average house price paid by a first-time buyer increased slightly to £139,921 in 2012 - representing a 3% rise compared with 2011.
Halifax found that the average price paid by a first-time buyer in November was affordable for someone on average earnings in 39% of local authority districts in the UK, compared with just 5% in 2007. Homes were classed as affordable if they cost less than four times typical local earnings.
Stirling in Scotland was named as the most affordable district, where house prices are around two and-a-half times earnings.
At the other end of the scale, first-time buyers in Camden, London, face buying a home which costs nine times the average wage.
The vast majority of local authority districts which were deemed affordable in the UK were outside the South of England.
Just 5% of the affordable districts were located in the South, where house prices tend to have held up to a greater extent, and 95% were spread elsewhere in England or in Scotland, Wales or Northern Ireland.
The North West was found to be the most affordable region in Britain, with 88% of local authority districts there found to be affordable.
London was the area most out of buyers' reach, with 100% of districts there deemed unaffordable.
A typical first-time buyer in London, where the market has remained relatively strong, is two years older than the national average, at 32 years old, Halifax said.
First-time buyers in London put down the largest average deposit, at £62,356, while those in the north put down the smallest, at £14,936. The average deposit needed across the UK is £27,984.
The number of mortgages on the market has increased by around a fifth since a multibillion-pound Government scheme was launched in August to kick-start lending to firms and households. The scheme has also led to mortgage lenders slashing their rates, although much of the strongest competition so far has been aimed at borrowers with larger deposits.
The Government also recently introduced the NewBuy scheme, which helps people to buy a new-build home with a fraction of the usual deposit.
Martin Ellis, housing economist at Halifax, said: "The number of first-time buyers has risen to a five-year high, boosted by the improvement in affordability resulting from the reductions in both house prices and mortgage rates in recent years.
"Conditions for potential first-time buyers, however, remain very difficult with problems raising the necessary deposit and concerns over the economic climate continuing to prevent many from entering the market.
"Despite some positive steps with schemes such as NewBuy, the numbers of those buying their first home remain low by recent historical standards."
Halifax also highlighted evidence that first-time buyers have become increasingly reliant on extra help to give them a push onto the ladder.
The Council of Mortgage Lenders (CML) recently estimated that 65% of this sector of the market had financial assistance in mid-2012, compared with 31% seven years earlier.
Here are the most affordable local authority districts for first-time buyers and the average house price to earnings ratio:
1. Stirling, Scotland, 2.57
2. Renfrewshire, Scotland, 2.75
3. South Ayrshire, Scotland, 2.75
4. East Ayrshire, Scotland, 2.78
5. South Lanarkshire, Scotland, 2.83
6. Falkirk, Scotland, 2.86
7. West Lothian, Scotland, 2.86
8. North Ayrshire, Scotland, 2.89
9. Hartlepool, North East, 2.91
10. Rossendale, North West, 2.92
And here are the least affordable districts for first-time buyers and the average house price to earnings ratio:
1. Camden, London, 9.02
2. Oxford, South East, 7.93
3. Brent, London, 7.90
4. Harrow, London, 7.89
5. Hackney, London, 7.72
6. Lambeth, London, 7.18
7. Ealing, London, 7.04
8. Haringey, London, 6.90
9. Wandsworth, London, 6.87
10. Newham, London, 6.86