No sooner will the bell be ringing for 2013, than the glittering and good of the entertainment world will be brushing off their tuxes, practising their good-loser grins and optimistically clearing a spot on the mantelpiece.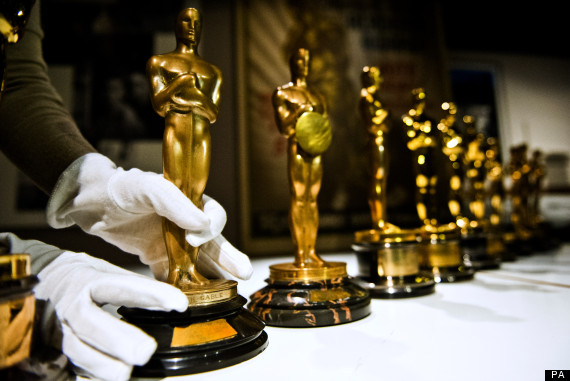 And the good news is... there are a whole bunch of British names in the mix. Here's a quick run-down of the cinematic horses with their noses out front at the moment, along with our best home-grown hopes...
Best Actor
Hugh Jackman - Shows his vulnerable side, emaciated frame, not to mention a deep well of a singing voice, to heartbreaking effect in 'Les Miserables'
Philip Seymour Hoffman - Tour de force as a religious cult leader who may or may not be Scientology-influenced
Joaquin Phoenix - Equally effective in 'The Master', but could this double-whammy split the vote a la Susan Sarandon and Geena Davis in 'Thelma and Louise'?
Denzel Washington - Getting lots of plaudits for his performance as a ravaged pilot in 'Flight'
Bradley Cooper - Broke out of rom-com mediocrity with his turn in 'Silver Linings Playbook'
John Hawkes - Celebrated character actor ('Lincoln', 'Deadwood', 'Winter's Bone') was funny and moving as a severely handicapped man looking for love. There wasn't a dry eye in the house at the screening I went to - extraordinary.
Daniel Day Lewis - This double Oscar winner has not so much acted the role of Lincoln, as disappeared into the character of the US President dealing with the small matters of a civil war and slavery.
My vote: I'd love John Hawkes to get it, but DDL would be a worthy winner.
British Hopes:
Anthony Hopkins - No nods from the Golden Globes for his portrayal of Alfred Hitchcock, but other voting panels may be more favourable
Ewan McGregor - Surprising lack of recognition for his subtle work in Tsunami epic 'Impossible', instead getting nods for his lighter touch as a romantic middle-ager in 'Salmon Fishing in the Yemen'
Best Actress
Helen Hunt - Raw, generous portrayal as the woman charged with bringing John Hawkes physically to life in 'The Sessions'
Anne Hathaway - Convinced her doubters with her small but striking musical turn as Fantine in the film version of 'Les Miserables', and the Academy always love a woman prepared to shear her hair off
Marion Cotillard - Already plaudit-heavy for her role as a deep sea diver for whom disaster strikes in 'Rust and Bone'
Naomi Watts - Could this be the Aussie's year for her traumatised turn in Tsunami epic 'Impossible'?
Jennifer Lawrence - Has managed to combine increasing popularity with critical acclaim, might get the nod for her role alongside Cooper in 'Silver Linings Playbook'
Jessica Chastain - Brought femininity and strength to Kathryn Bigelow's Bin Laden thriller 'Zero Dark Thirty'
Quvenzhane Wallis - It wasn't really acting, more channelling some inner understanding, when this youngster stole the screen in 'Southern Beasts of the Wild', would enter the record books just by being nominated
British Hopes:
The Academy loves a Dame. This year's screen legends keeping up the British end is the ever-impressive triumvirate Dame Judi (perhaps an affectionate nod for 'Skyfall), Dame Maggie (every time she leaves the house, it's probably to collect an award these days - 'Quartet', 'Best Exotic Marigold Hotel', 'Downton'), and Dame Helen (touching and strong as Hitchcock's wife Alma). Among the young pretenders... Keira Knightley (Anna Karenina), Rachel Weisz (The Deep Blue Sea) and Emily Blunt (Salmon Fishing).
My vote: Helen Hunt was very affecting, but gongs should go to Jessica Chastain, unless torture/CIA controversy blocks her passage. Best Supporting anythings are Ms Hathaway's for the taking.
Small budget, big noise... some of the films that might just sneak up on the big guns and pull a surprise...

Moonrise Kingdom

Hyde Park on Hudson

Beasts of the Southern Wild

Silver Linings Playbook

The Sessions

Salmon Fishing in the Yemen
Best Film
Django Unchained - As usual, Quentin Tarantino has stirred up debate. Spike Lee won't be voting for this film - 'an insult to my predecessors' - but then he's also refused to see it. Other people more impressed with Tarantino's homage to western.
Les Miserables - One of the unfilmable stories to make it to film this year. Like it or loathe it, this larger-than-life epic tragedy is a stunning visual feast set in 19th century Paris, with tragedy, humour (thank you Sacha Baron Cohen) and a whole load of live singing to keep it interesting.
Argo - If this film had appeared in the 1970s, it would have been greeted as another good thriller to sit alongside The Day of the Condor and All The President's Men. In this blockbusting age, Affleck's ripping yarn of smuggling hostages out of Iran has been gratefully received as a masterpiece by audiences hungry for something other than a CGI-centric sequel.
Life of Pi - Another 'unfilmable' story, made magic by special effects and a very special young actor
Lincoln - Steven Spielberg's latest historic offering, more subtle than you'd expect and more political knowledge of this particular era than you'll ever need for a pub quiz
Zero Dark Thirty - Equal amounts of criticism for either a) advocating torture or b) overplaying it, depending on who's opining but, once you get past that, a cracking thriller leading up to the mission to capture the world's most wanted terrorist.
My vote: An American-heavy voting panel might not get further than the impressive scope and commitment of 'Lincoln'. 'Les Mis' and 'Pi' equally impressive visually, but 'Zero Dark Thirty' gets my vote for how quickly two and a half hours passes in the company of the CIA and some Navy Seals.
British Hopes:
Quartet, Best Exotic Marigold Hotel - two projects benefitting from the golden touch of Dame Maggie, and audiences hungry for non-blockbusting romance, humour and nostalgia. Both films perhaps too unambitious to be heavy hitters, but watch out for these come BAFTA...
Best Director
Steven Spielberg – 'Lincoln' is this national treasure's latest political saga, this time on his native soil. Award voters may feel bad about 'War Horse', although the film rests heavily on one man's shoulders, namely Daniel Day-Lewis.
Kathryn Bigelow – Harnessed the labyrinthine tale of hunting down Bin Laden into an accessible, gripping tale.
Wachowski Siblings – Decanted David Mitchell's 'unfilmable' 'Cloud Atlas' into a supernatural tale
Ang Lee – Another day, another unfilmable. Huge amounts of affection for Ang Lee, most recently for him NOT ruining a lot of people's favourite book
Ben Affleck – Very popular man behind the camera, although not as ambitious with 'Argo' as, say, Spielberg. Impressive career reinvention, though, for the former one-half of Bennifer even to be part of this luminary group.
My vote: Crossing fingers for Tom Hooper, but I think it's more likely to go the way of either Spielberg or Bigelow. If the vote from Best Film gets split which happens occasionally, then popular Ang Lee in with a shot.
British Hopes:
Tom Hooper – already a winner for 'The King's Speech' could feasibly make it a double with his uncompromising and loyal adaptation of 'Les Mis'.
Joe Wright – Budget constraints meant he switched his 'Anna Karenina' production into a theatrical facade of a tale - an almighty feat he pulled off with impressive chutzpah.
So that's it. Roll on Awards season and let's see how many I got wrong. My safest bet? I'll eat my hat if Ms Chastain isn't practising her victory speech right now...