When Theo Walcott scored from the inside left channel by curling the ball past Tim Krul a la Thierry Henry, someone quipped Walcott is to Henry what Caitlin Moran is to Emmeline Pankhurst. Walcott's next two strikes were even better and his cross for Olivier Giroud's first was exquisite, but the Henry comparisons are of the negative variety.
Henry, training with Arsenal, was there in the stands and Walcott seems to have inherited his rampant sense of self-importance. After his hat-trick he displayed the disingenuousness Henry was renowned for by doing a lap of honour and milking the crowd's acclaim more than Kevin Pietersen after a century. This takes immense gall, what with it being at the halfway stage of the league season and the goals coming against the 15th-placed side. He even had a cringing celebration which out-cringed any of Henry's.
One swallow does not a summer make and Walcott's first Premier League hat-trick since August 2010 is a reflection of the severe lack of industry he has displayed in his seven years with Arsenal. Everyone is aware of his contract situation and this has put Arsenal fans, smarting from Samir Nasri and Robin van Persie's penultimate year performances, to urge the latest reluctant to sign da ting.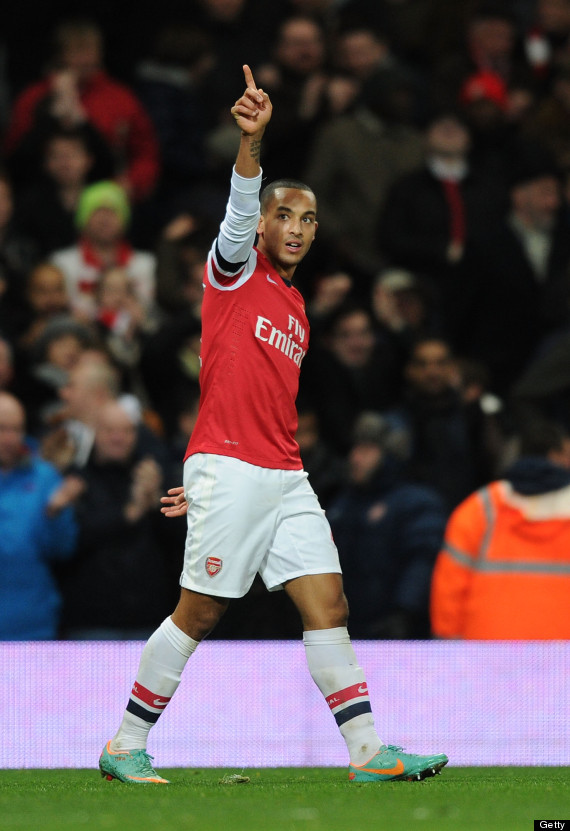 Number one
It is a mark of a side's desperation when their support takes to such nouveaux football measures in a bid to implore a player of Walcott's ilk to remain at the Emirates Stadium. This is the same player Arsenal fans chose as their seasonal scapegoat in 2011-12 and who was booed during the north London derby in February. Has the turnaround been that drastic that he is now considered imperative to the team's future? No.
Whereas Van Persie was always one of European football's most naturally gifted attackers, Walcott appears to be overperforming in a bid to earn a greater wage. He reportedly wants £100,000 a week; an obscene figure for a player who was wrongly billed as England's great white hope once upon a time. So underwhelming has Walcott's career been he was overlooked for the 2010 World Cup having given pre-tournament promotional interviews.
Since he joined Arsenal in January 2006 his most outstanding contribution has been one admittedly dazzling run at Liverpool in the 2008 Champions League semi-final to assist Emmanuel Adebayor. He has not galvanised his team in the manner Nasri or Van Persie did but because he is in a similar contractual situation he has decided to tease his employers with the odd good game, albeit belatedly. Still number one
But his supposed importance can be gauged by Arsenal not flogging him in the summer when he had a year left remaining, which wasn't the case with Nasri and Van Persie. Chelsea and Liverpool are both interested in Walcott, but not enough to want him imminently.
Much has been made of Walcott's positional switch and he has never hid his desire to play as a striker, having played the majority of his Arsenal career on the wing. That should not legislate for him failing to engage his brain when purportedly a square peg in a round hole. Emmanuel Eboué looked more competent in the same position.
This may be the first contract saga in which the club would show ambition by letting the player go. Arsenal's biggest in-season signing has been made in the ebullient Wilshere, one of five British players to commit their future to the club as Arsène Wenger attempts a more successful effort at Anglicising the squad after his 2001 efforts. Giroud, who scored two past Newcastle, is an improving striker who is also more of a team player than Walcott. He has scored 11 goals and provided nine assists.
A meme emerged last season of Walcott photographed with Mo Farah. A speech bubble emerged from both, saying "With all your pace it's a shame you're not a footballer." Harsh perhaps, but it was a reflection of Walcott's stalling career and the multitude of misgivings about his quality. He has had a good half season but even a full one should not mask his numerous faults.