Former Liverpool winger John Barnes has said Luis Suárez's diving is "not an issue" and he is a victim of Britain's moral police.
Suárez has been vilified in some quarters for his perceived cheating since he joined the Anfield club in January 2011. However the Uruguayan appears to have made a conscious decision to alter his image and is enjoying a terrific season with the Reds, scoring 18 goals.
But Barnes said the forward had been scapegoated by the British mentality towards divers.
"We are very quick to judge in this country as to what we consider to be diving," the ex-England international told HuffPost UK Sport. "You go to Argentina, Spain or Italy, diving isn't a major issue but because of the way we are in Britain, that we believe we are the moral policemen of the world, we judge people on our own morals.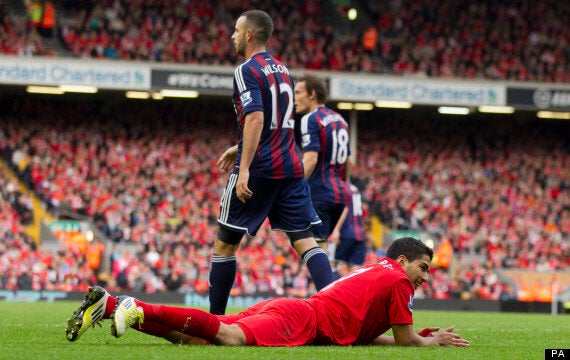 Suárez's dive against Stoke was his most infamous
"But that [the diving]'s not an issue, not an issue whatsoever. I don't think necessarily that Suárez does dive. The way he plays, he's always going to go over. Some of the runs he makes or tries are absolutely ridiculous and I think a lot of it has to do with him losing his footing.
"Yes, there are times when he looks to gain an advantage because that's the culture he was brought up on but that's not wrong, it's the way he is. He probably has made a conscious effort because of what we expect from him."
Suárez has emerged as an early contender for player of the season along with Chelsea's Juan Mata and Manchester United's Robin van Persie.
And Barnes, the PFA Players' Player of the Year in 1988, says Suárez's achievements in a transitional side make him the outstanding candidate.
"You look at Van Persie, who's been fantastic for Man United but he's playing in a good team that's playing very creative football," he explained.
"He may be the one scoring the goals but he's playing in a side which supplements what he is doing whereas Suárez has really been single-handedly doing what he's been doing. Van Persie has been a better team player but on an individual perspective, Suárez has been the one for me."
The former Ajax attacker is now joined by Daniel Sturridge up front after the England international signed from Chelsea earlier this week for £12m.
Whereas at Chelsea Sturridge was pigeonholed as a winger, Barnes thinks he will be granted more freedom by Liverpool manager Brendan Rodgers. Sturridge at Anfield on Wednesday night
"Suárez runs everywhere. You really don't know what he's going to do or where he's going to pop up," he said. "So trying to fit into a system with him is going to be difficult, but I think it will allow Daniel Sturridge to move around much more mainly because there will be areas where Suárez isn't."
"It's a bit like Theo Walcott playing down the middle against Newcastle. When Giroud came on he went on to the right but he still came into the middle and moved around, so he gets more freedom. I think that is what Sturridge will have.
"The way that Suárez plays will give him that scope to move into the central positions much more than he has done and their interchanging of positions will be to Sturridge's liking."
Rodgers has had an ambivalent start to his Anfield career - Liverpool have won only eight of their 21 Premier League games and lost six - yet Barnes maintains he was "never going to judge him this year". Rodgers takes charge of Liverpool in the FA Cup for the first time against Mansfield
He added: "You have to look at the development of the team and what will happen with the philosophy that he has, not necessarily his playing philosophy but bringing young players in and trying to nurture them and implement his own ideas. There's going to be inconsistency, because that comes with young players."
Liverpool's third-round FA Cup tie away to Mansfield on Sunday is the start of their quest to regain the trophy they last won in 2006.
A two-time FA Cup winner with the Reds in 1989 and 1992, Barnes reveals the semi-final defeats he suffered were tougher than the four final losses (1984, 1988, 1996 and 1998) he suffered.
"The worst feeling is losing in the semi-final," he stressed. "I lost in the semi-final to Tottenham for Watford, and against Crystal Palace. The final is the place to lose because the week leading up to the FA Cup final, the euphoria, the fans, the interest, that is a great week so even though you're disappointed that memory stays with you."
Unsurprisingly the emotion of the '89 triumph is the highlight.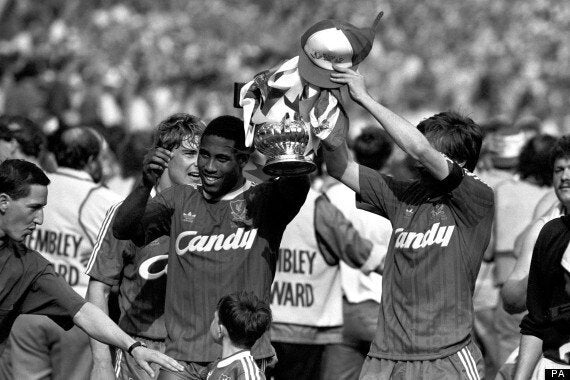 Barnes hoists the cup with Ronnie Whelan in 1989
"The first one, after Hillsborough, was poignant," Barnes recalls. "But I felt slightly sorry for Everton because the whole world wanted Liverpool to win. Under normal circumstances you would want the underdog to win but they had no chance going into that game."
ESPN will air live and exclusive coverage of three FA Cup Third Round games this weekend: Swansea City v Arsenal at 1pm and Mansfield Town v Liverpool at 3.45pm on Sunday, then Cheltenham v Everton at 7pm on Monday. Visit ESPN.co.uk/tv for details